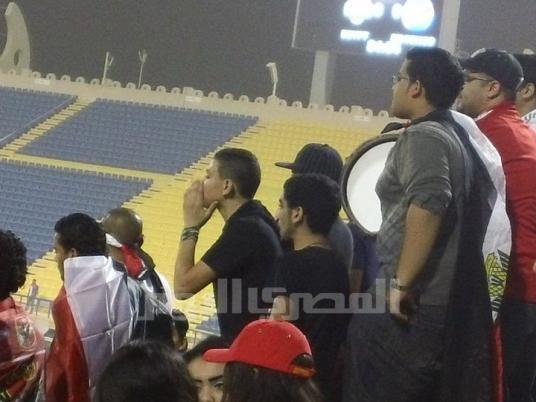 DOHA — With its three friendly matches scheduled for Cairo last week scuttled by the Interior Ministry after the Port Said disaster, the Egyptian national football team has now gone almost seven months without competing on home soil. For the squad and its legions of supporters, that's far too long. The resulting exile does, however, have at least one set of grateful beneficiaries.
As the starting lineups of Egypt and Congo emerge from the tunnel of Gharafa Stadium in Doha Friday evening for the final of Egypt's three games in Qatar, the east end of the ground erupts. Turnout is sparse — perhaps a thousand in this 22,000-seat venue. But the crowd's numbers belie its enthusiasm. Egyptian flags decorate the stands. Small kids with faces painted red, white and black join in the cries of "Masr!" A group of seven holds aloft placards spelling out "I ♥ EGYPT."
For the fans — some of Qatar's tens of thousands of Egyptian expatriates — these rare opportunities to glimpse Egypt's sporting heroes offer a welcome taste of home. They've become increasingly frequent as of late. Egypt's last game before this trip, a 2-0 loss to Brazil in November, also took place in Doha, just down the road.
"It's great," says Amr Gamea, a 27-year-old IT specialist. "All Egyptians love the country. So they smell the Egyptian air with the team coming over here." Near the midfield stripe, a group of young men leads the crowd in chanting, "Great Egypt team! We have to give her our soul!"
If their love for Egypt is unequivocal, their feelings about their adopted country are decidedly mixed. In many ways, it's hard to imagine a place more different from Egypt than Qatar. The pace of life is slow, at times, crawling. The sidewalks in downtown Doha are close to deserted. You can walk for an hour without hearing so much as a beeping car horn. Social life is mostly confined to colossal malls. Only the constant din of construction machinery erecting Doha's latest, sleekest skyscrapers lends the faintest hint of vitality to an otherwise lifeless urban tableau.
The quiet life suits many just fine. Ahmed Awad, 28, moved to Doha from Cairo five years ago and now works for the Qatari Football Association. He's seated between two friends with an Egyptian flag that spans the length of them. "Everything is organized," he says. "It's small, but a very nice country."
Many echo the sentiment. Amid the continuing upheaval in Egypt, Qatar represents an oasis. Crime is low. The streets are clean. Political unrest is practically nonexistent.
Like almost all of Qatar's temporary residents, who comprise three-quarters of its 1.8 million residents and more than 90 percent of the labor force, Egyptians come here for a single reason: to tap into Qatar's booming economy, which boasts the highest GDP per capita in the world. Awad explains that in Qatar, an Egyptian can expect to make anywhere from three to five times his salary back home.
Beyond work, though, Qatar holds few attractions for most expats. One cab driver, a Ugandan, puts it bluntly: "We come here to get our money, and that's it."
Indeed, the tranquility of Qatari life elides easily into boredom. Asked what there is to do for fun around here, Awad grimaces. "Fun?" he repeats, and then laughs a little. After some thought, he suggests the mall, or perhaps the beach if it's not too cold.
"There's no lifestyle here," his friend, Xenia chimes in. She moved from Greece last year to work on the Pan Arab Games and decided to remain because of Greece's own political and economic woes. She hasn't had the easiest time of it so far. As a woman, she says, decent-paying work isn't easy to find.
Most importantly, for the Egyptians interviewed, Qatar is not, and will never be, home. All hope to return to Egypt, and sooner rather than later. Even Abdul Latif, a 45-year-old sales manager at Ready Mix who says Qatar is "very, very, very good" wishes to go back to his hometown of Mansoura as soon as possible. "If things in Egypt are good after next 25 January, I will," he says.
The expat community remains intimately connected to life back in Egypt — sending back money to family members, paying regular visits and, of course, closely tracking political developments. So it's no surprise that, besides football, politics constitutes the primary talking point. Nor does it come as a great shock when 15 or so young men, identified by witnesses in the crowd as members of Ultras Ahlawy, begin to chant against the Egyptian military and police from behind the Congolese goal before being whisked away by security.
Predictably, the fans in attendance express a range of reactions. Mohamed Abdelkader calls the protesters "bad guys" and condemns the outburst of political theater. "People come [to Qatar] to work," he says. "There's no need to make problems." His friend, Mahmoud Mohamed, adds that the continuing demonstrations back in Egypt only destabilize an already precarious situation.
Mohamed Rostom, new to Qatar after five years in Dubai, takes a different view. Of the military, he says, "Sometimes they do good, sometimes bad," but he identifies with the demonstrators. "If they were allowed to chant, I would join them."
The temporary distraction, however, is quickly forgotten by just about all, who promptly divert their attention back to the match. They try to rally Egypt to a third and final victory to close out the tour, but to no avail. The game ends in a nil-nil draw.
It's no matter. The crowd leaves in as high of spirits as it arrived. Back at the team's hotel, young fans stream into the lobby, hoping to get a picture with their favorite players. No one goes home empty-handed.
Two thousand kilometers might separate the expat community from home, but if anything, distance has only deepened the sense of attachment to Egypt and those who represent it. Even among those here for years, there is no question where their loyalties lie.
"There is one team for all Egyptians," says Mohamed Zein, a 25-year-old advertising administrator, who has lived in Qatar for the last four years. "This is the team for our country."