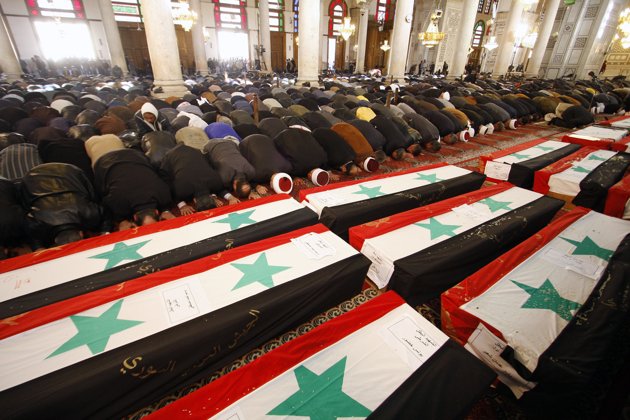 Egypt's foreign minister said on Tuesday that Egypt intends to host a conference that will allow "Syrian national groups" to express their opinion on Syria's future.
Egypt hosted a meeting of the Syrian opposition in January, resulting in an agreement on a political solution to the Syrian crisis. Foreign Minister Sameh Shukri said the upcoming conference will be broader.
Shukri's statement, which was aired on state television, came during the third humanitarian conference to raise funds for millions of Syrians, which kicked off today in Kuwait.
Shukri called on donors to fullfil their obligations towards the Syrian people. The Egyptian foreign minister said we hope the international community stands behind the Syrian and Arab solutions to the prolonged crisis.
According to a statement by the United Nations Office for the Coordination of Humanitarian Affairs (OCHA), more than 12 million Syrians are in "dire need of assistance".
In Egypt, over 133,000 Syrians are registered with the UN High Commissioner for Refugees but Egypt says it is hosting more than 300,000 Syrian refugees.
Shukri said Egypt has the highest rates of refugees in school age, with 39,000 Syrians in Egyptian schools and 14,000 in universities
The OCHA says Syria suffers from the "largest displacement crisis in the world." There are 7.6 million internally displaced persons within Syria and 3.8 million others who have fled the conflict-torn country and are living in neighbouring countries, often putting a strain on local resources.
There are five main host countries for Syrian refugees. Regionally, Turkey is hosting the largest number of Syrians in a single country, with 1.7 million individuals registered with the refugee agency.
The rest reside in Lebanon, where there are more than a million Syrians, as well as Jordan, Iraq and Egypt.
Kuwaiti Emir Sheikh Sabah al-Ahmed al-Sabah launched the conference with an announcement that his oil-rich country is pledging $500 million in assistance.
So far more than $1 billion have been pledged, with the United States pledging $507 million and Saudi Arabia pledging $60 million.
A total of $1.5 billion and $2.4 billion were pledged in the first and second conference, respectively, the Kuwaiti state news agency KUNA said, with Kuwait itself pledging at least a fifth of the total sum in both years. The previous conferences were both also hosted in Kuwait.
Delegations from 78 countries and 40 international organisations are taking part in the one-day conference, KUNA reported.