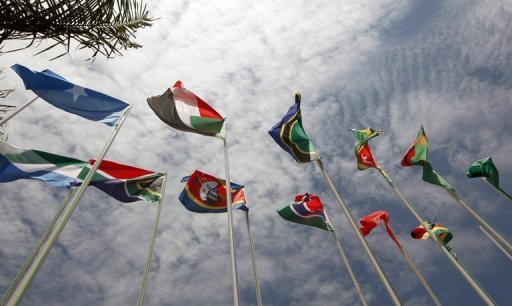 The Egyptian Foreign Ministry has conducted communications with African capitals to review African Union's Peace and Security Council (PSC)'s decision on freezing membership of Egypt, which was taken following 30 June revolution.
The ministry is mainly leaning on the new-found legitimacy from the high turnout on the referendum on 2013 constitution, which took place on 14 and 15 January.
Badr Abdel Aaty, the ministry spokesperson, told Al-Masry Al-Youm, "there are communications and actions taken by the foreign minister with officials from pivotal countries of the African Union to correct the mistaken decision that was taken by the Peace and Security Council."
The meetings held by Nabil Fahmy, the minister, with African counterparts on the sidelines of the Organization of Islamic Cooperation's ministerial meeting in Guinea's Conakry ahead of other meetings with foreign ministers of Guniea, Mauritania, whose country heads the coming African summit, and PSC Chief in Morocco few days ago.
The Guinean minister, according to the spokesperson, stressed during meeting with Fahmy, that he will hold a meeting for the PSC and that his country will deal positively with the Egyptian request through the council. Mauritanian minister also assured that they are following on the issue and that they will tackle it positively through his country's presidency of the summit.
Edited translation from Al-Masry Al-Youm