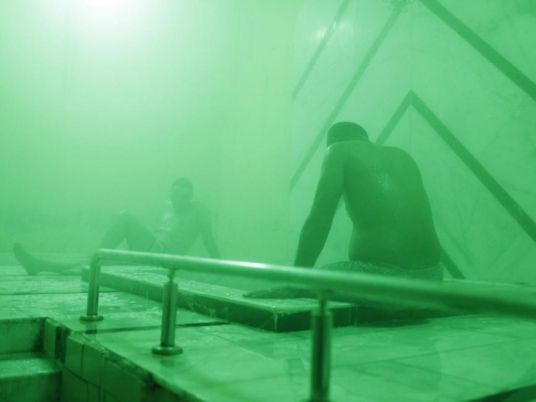 Three of the 21 men that were arrested in the Ramses "gay
"
bathhouse raid were sexually assaulted, says Hesham Abdel Hameed, the
Justice Ministry's forensics department spokesperson
.
Hameed, who spoke to
Ahram Online
, said all 21 men were subjected to anal examination by forensic authorities in an attempt to determine their previous homosexual activity.
Though the exam showed the three men engaged in non-consensual anal sex, the exam did not produce results in the other 18 men, he added.
The anal examination, similar to the "virginity tests" performed on women, is administered by the forensic authority on men arrested for "debauchery," a blanket charge used to apprehend men who are suspected of practicing homosexuality in Egypt.
During the examination, the men are forced to bend over as a doctor massages their buttocks and probes their anus. Though the results of such examinations are used in court, medical experts say the practice is useless in determining whether consensual gay sex has taken place.
Human Rights Watch
has called for ending the practice, saying it violates international treaties against torture.
The 21 men, earlier reported to be 26 by
Reuters
, were arrested in a sting operation, spearheaded by TV presenter Mona Iraqi as part of her program "Al-Mostakhbai," an undercover show on the channel Alqahira wal Nas.
The TV journalist brought a secret cameraman into the bathhouse to film inside and later colluded with police to raid the premises. As the police arrived, Iraqi filmed the half-naked men crouched and huddled as police escorted them to jail.
"With pictures, we reveal the biggest den of group perversion in the heart of Cairo," she wrote on her Facebook fan page. "The cameras of al-Mostakhbai has a filmed investigation to prove incidents of group perversion and record the confessions of the owners of this den."
In her defense, Iraqi responded to criticism saying her program was meant to raise AIDS awareness and highlight the "categories most vulnerable to HIV infection" and called the bathhouse, where men allegedly engage in group gay sex, as a "den for spreading AIDS in Egypt."
Iraqi and prosecutors also allege the men were engaging in gay prostitution, according to their video evidence.
Though Egypt does not have specific laws banning homosexuality, authorities have used laws against "debauchery" and "prostitution" as a means to arrest what is seen as deviant sexual behavior in this socially conservative country.
Since the ouster of Muslim Brotherhood President Mohamed Morsy, the country has stepped up its crackdown on homosexual activity.
In November, eight men were sentenced to three years for "inciting debauchery and offending public morality" over a YouTube video where they were allegedly shown on a Nile sailboat performing a gay marriage.
After the video went viral on social media, the men were arrested and subject to anal examinations by forensic authorities in an attempt to prove their sexuality. Though the forensic team said the examinations showed the men had not engaged in homosexual behavior, they were sentenced nonetheless.
"The entire case is made up and lacks basis. The police did not arrest them red-handed and the video does not prove anything," Hameed told
AFP
.
Egypt last saw a large
bathhouse raid
in the poor neighborhood of al-Marg, north-east of Cairo in October 2013. Egyptian prosecution ordered the arrest of 14 suspects after being caught "in the act of homosexuality."
Speaking to Egypt Independent, Adel Ramdan, a lawyer with Egyptian Initiative for Personal Rights, said Egypt's social taboo against homosexuality has driven gays to seek sex in underground bathhouses or saunas where they engage in risky public sex with strangers. "If Egyptians in general practiced sex normally, they would rarely go to brothels," he said.