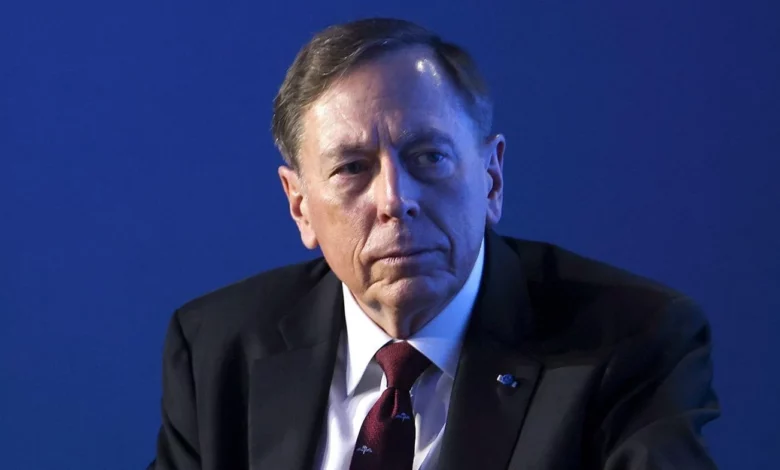 New York
CNN
 —  Washington should crank up the pressure on Moscow as Russian President Vladimir Putin is confronted by a powerful one-two punch of military and economic failures, former CIA director David Petraeus tells CNN.
"Putin is in a very, very difficult situation," Petraeus said in a phone interview. "We need to continue to tighten the screws."
The perception of Putin's ironclad grip on power was shattered by last month's Wagner rebellion, a short-lived uprising that nonetheless amounted to the greatest challenge to the Russian leader's authority since he rose to power in the 1990s.
Petraeus, currently serving as chairman of the KKR Global Institute, said Putin faces "bleeding on the battlefield" as well as "in the economy, the home front."
"It has not been as bad as a lot of us hoped it would be. Still, they are in trouble on the home front," he said of Russia's economic situation.
The retired four-star general cited a range of developments that illustrate severe pain in the Russian economy, including Moscow's mounting budget deficits, the exodus of more than 1,000 major Western companies, the withdrawal of major oil producers and their superior technology, and the severing of much trade with Europe.
The Russian government's revenues from oil and gas fell by 47% to 3.38 trillion roubles ($37.4 billion) in the first half of the year from the same period in 2022, Reuters reported Wednesday, citing finance ministry data. Tax returns fell because of lower prices and sales volumes.
Petraeus, the former head of US Central Command, said Russia also faces a brain drain caused by the sheer number of talented citizens who left the country since the war began in February 2022.
"They've lost hundreds of thousands of their best and brightest — who no longer wanted to live in a country that is a global pariah," he said.
'An economy that is hemorrhaging'
Western sanctions have not delivered a deathblow to the Russian economy. Some, including economist Larry Summers, argue that economic penalties on Russia haven't bitten as hard as anticipated because not enough countries have imposed sanctions.
Others, like Yale professor Jeffrey Sonnenfeld, say sanctions are "working tremendously" well against Russia.
"Russia is no longer an economic superpower. This is an economy that is hemorrhaging," Sonnenfeld told CNN.
The slow erosion of Russia's economic power is mirrored on the battlefields in Ukraine. Even though many in the West assumed Putin's army would quickly topple Kyiv, the war in Ukraine has dragged on for nearly a year and a half.
And Petraeus says the war won't end until "Putin realizes this is not sustainable."
'Cat-and-mouse game'
Of course, that is one objective behind Western sanctions on Russia: to make it too painful for Moscow to continue the war.
Petraeus praised the Treasury Department's "very impressive" sanctions campaign, led by Deputy Treasury Secretary Wally Adeyemo.
But the former CIA chief noted the complexity involved in modern sanctions, where target countries often find ways to evade restrictions.
For instance, US officials say that to get around Western bans on technology sales to Russia, Moscow is importing dishwashers, washing machines and other kitchen appliances to use their advanced computer chips in rockets, planes and elsewhere.
"This is a real cat-and-mouse game. It takes enormous perseverance and attention to detail," Petraeus said. "The challenge is one of just sheer capacity and bandwidth."
Petraeus called for the US and its partners to "continue to tighten" economic sanctions and export controls on Russia and to "minimize" the "disappointing" number of countries willing to trade with Moscow.
"We have to continue to stay after it — and I'm confident we will," he said.
Too cautious?
Sonnenfeld, the Yale professor, agreed that more could be done to pressure Moscow, including better tracking of avionics parts and microchips that end up making their way into Russia through third-party countries.
"There's leakage in chips and aviation. That could absolutely be policed better," he said.
The KKR exec praised the Biden administration and Congress for doing an "extraordinary job" in supporting Ukraine and keeping the Western alliance together.
However, he expressed disappointment that Washington hasn't moved faster to get Ukraine all the military hardware that officials in Kyiv say is needed.
"There is a bit of a pattern where Ukraine asks for something, we say, 'No,' then 'possibly,' then 'maybe' and eventually we accede to their request. But you're losing time in this effort," Petraeus said. "We have been a little bit overly cautious."