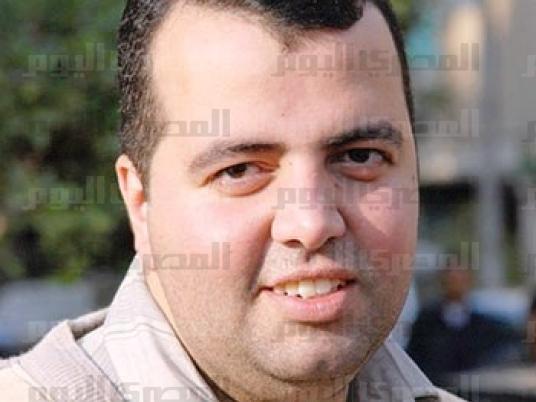 Former MP Mostafa al-Naggar has accused Prime Minister Hazem al-Beblawy, Interior Minister Mohamed Ibrahim, Information Minister Doria Sharaf Eddin and Investment Minister Osama Saleh of tarnishing "the symbols of the revolution."
This came after a telephone conversation was leaked between him and Abdel Rahman Yusuf al-Qaradawi following the storming of the State Security Bureau in March 2011, in which he told al-Qaradawi that the bureau had a dossier about him and his affairs with women.
Naggar's leaked call was aired by Abdel Rehim Ali, an announcer at al-Qahera Wal Nas satellite channel.
He responded on Facebook saying that "all Egyptians should be aware of the government's moral assassination campaign that is aimed at taking political revenge from its opponents by lying, fabrication, forgery and spying in order to portray them as devils and traitors merely because they took part in the January revolution."
He posted part of a telephone conversation in which he was asking a state official to stop distorting the revolution and its symbols, to which the official told him he should leave the country if he did not like it.
Naggar also posted parts of conversations with other state officials in which they told him to stop talking about torture and human rights or pay a heavy price.
"I was never involved in attacks on public or private property because I believe in peaceful change like all the other revolutionaries," he wrote. "But Mubarak's boys are trying to portray us as saboteurs and traitors so they can pave the way for his regime to return."
Naggar criticized the interim president, for being head of the largest court in Egypt, while allowing eavesdropping on people's private calls.
"You will not make of the revolution a crime to punish us for," he wrote. "You will not be able to defeat the hearts that despair could not break, nor will you be able to intimidate the souls that wish to die."
"Shame on you for dropping the rule of law," he said addressing Interim President Adly Mansour and Defense Minister Abdel Fattah al-Sisi. "I hold you responsible before God and before the people for what happens."
"You are the last bastion of this country," he added. "Shield it."
Edited translation from Al-Masry Al-Youm