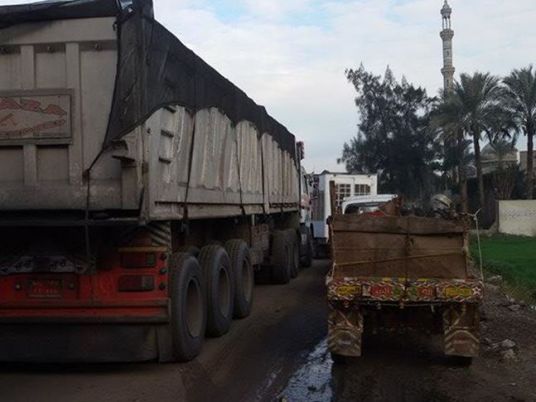 Four people were killed and five others injured in separate road accidents in Beheira governorate.
The reasons of the accidents included an imbalanced steering wheel, explosion of the tire, falling down a motorcycle while driving and the driver falling asleep.
Head of Beheira Security Directorate Gamal al-Rashidy was notified about the accidents.
The first occurred on al-Khatatba-al-Tawfikeya road at Koam Sherik village between a tuk-tuk and a truck.
The tuk-tuk's driver Islam, 19, and his companion Mohamed, 17, were killed in the collision. Three others were injured with bruises and fractures and were transferred to Kafr al-Zayyat General Hospital. The two dead bodies were transferred to the Koam Hamada public hospital's morgue.
The second accident was motorcycle driver Medhat G., 20 falling off his bike. He suffered from abrasions and bruises and head injuries and he was transferred to Eitay al-Baroud Hospital.
The third accident was caused by the explosion of a truck's left front tire on Kafr al-Sheikh's international coastal road. The truck rolled over leading to the driver's death and the injury of his wife. According to the police communication, the deceased was named al-Shabrawy L., 60, a trader. His wife Amal K., 52, had her right arm broken.
The fourth accident occurred on Cairo-Alexandria highway and was caused by a heavy truck. The truck overturned because of the driver's sleep. The driver's companion Ahmed S., 39, was killed and his body was transferred to al-Nubariya General Hospital's morgue.
Egypt loses roughly 12,000 lives to traffic accidents every year. The country has a road traffic fatality rate of 42 deaths per 100,000 population, according to the World Health Organization (WHO).
Forty-eight percent of those killed are passengers of four-wheelers, though pedestrians also constitute a significant proportion at 20 percent.
According to a Central Agency for Public Mobilization and Statistics (CAPMAS) report on 2017 accidents, accidents on roads resulted in 3,747 deaths, 13,998 injuries, and 17,201 damaged vehicles.
The report adds that the main cause of accidents is the human factor at 78.9 percent of total cases, followed by vehicle defects with 14 percent, and environmental causes (eg. road conditions) with two percent of all accidents.
Edited translation from Al-Masry Al-Youm