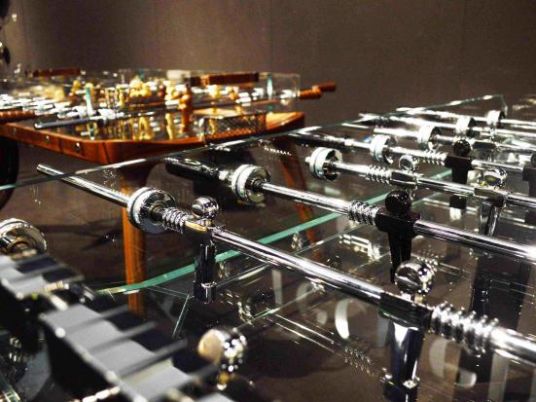 The popular Parisian luxury design show, Maison&Objet, drew crowds of visitors this week to Miami Beach for the event's first appearance in the United States, the latest cultural addition to South Florida's artistic boom.
Spanish, Portuguese and Japanese accents mingled as thousands of people pored over home furnishings like massive, custom-woven rugs and $10,000-plus tables.
Miami presents a lucrative arena for high-end designers these days as street art and galleries crop up throughout the area, and developers place leading artists' works in new luxury condominiums designed by top architects like Zaha Hadid and Rem Koolhaus.
"The timing is perfect," said Gust Bertels, owner of Belgium-based Sempre, maker of furniture using natural materials like wood and stone. Bertels' booth, a wood structure covered in palm fronds, drew picture-snapping crowds throughout the four-day show that ended Friday.
The fair is serendipitously being held in the days leading up to the coveted Pritzker Architecture Prize ceremony at Miami Beach's Frank Gehry-designed New World Center.
"It is a sign that now Miami is recognized for art, architecture, and design," said Philippe Brocart, managing director of SAFI, owner of Maison&Object and a subsidiary of French professional artisan's organization Ateliers d'Art de France and Reed Expositions France.
The Pritzker will be given to the late German Frei Otto, famed for his use of sprawling, lightweight structures.
Maison&Objet, which hosts another annual show in Singapore, has signed on through 2018 at the Miami Beach Convention Center, which also hosts Art Basel Miami Beach, which in 2014 brought more than 73,000 attendees for the top contemporary art fair in the Americas.
Across the bridge in mainland Miami a litany of cocktail parties for Maison&Objet were held in a fast-growing Design District featuring flagship Louis Vuitton and Piaget stores.
The once sleepy neighborhood is in the midst of $2 billion transformation to become a luxury shopping destination developed by Miami's Dacra and L Real Estate, a private equity firm sponsored by Moët Hennessy Louis Vuitton Group and Groupe Arnault.
The hope is that some of the aesthetic sensibility will spread across Miami as the city undergoes another real estate boom fueled by foreign buyers.
"We have design professionals, architects, and interior designers interested in programs related to urban design," said Ricardo Mor of the Miami Center for Architecture & Design.
"There's so much cross pollination that interdisciplinary work is inevitable."