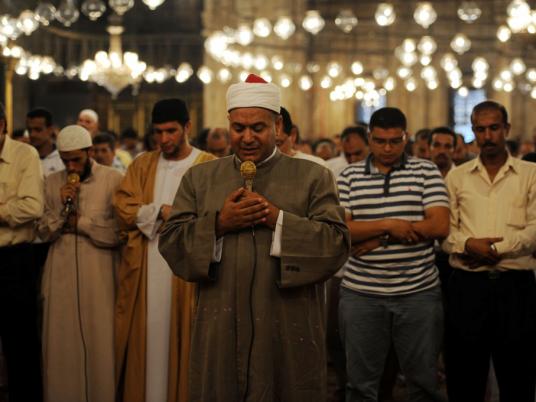 A unified Friday prayer sermon dictated by the Endowments Ministry will compare the opening of the New Suez Canal, President Abdel Fattah al-Sisi's most celebrated undertaking, to the Muslim conquests during the era of Prophet Mohamed.
Egyptian authorities are preparing for a mega event inaugurating the new waterway that the government says could maximize revenues from ships passing through the old canal, one of the world's most vital commercial routes.
Egyptian media have been actively drumbeating the anticipated event in face of government opponents and critics questioning the project's feasibility.
"The opening of the Suez Canal: A model for will and action", reads the title of the sermon circulated among ministry preachers who had been warned with disciplinary punishment in case of violating the text.
The text goes far to compare the new canal to a trench dug by Prophet Mohamed and his companions around Medina as a line of defense against his Jewish rivals during one of Islam's most celebrated battles.
"The digging of the new canal represents determination and resilience against hostile powers seeking the ruin of Egypt," read the text of the sermon.
The Endowments Ministry has embarked on a campaign to remove the preachers sympathizing with the Muslim Brotherhood from its staff since the ouster of former president Mohamed Morsi in 2013. It has prevented unauthorized imams from giving sermons or leading religious rituals and standardized the text of Islamic sermons.
Edited translation from Al-Masry Al-Youm