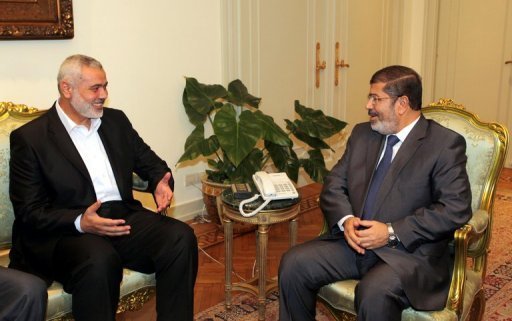 Gaza Prime Minister Ismail Haniyeh on Monday called for the establishment of a permanent security coordination committee with the government of Egypt after yesterday's attack on the Egypt-Israel border in Sinai.
Haniyeh denied any Palestinian involvement in the attack, saying, "Palestinians would never kill their Egyptian brothers."


"Compromising the security of Egypt is a compromise to Palestinian national security," Haniyeh said at an emergency meeting of his government in Gaza on Monday.


He accused Israel of being behind the attack. "The crime itself and what preceded it confirms Israel's involvement in one way or another," he said. "It aims to impose tension on the border with Egypt and abort the joint efforts to end the siege on Gaza."
Freedom and Justice Party member and former MP Hassan al-Berins said on his Facebook page that Hamas has offered to cooperate with Egyptian intelligence forces in searching for those responsible for the attacks. Palestinians are grieving for the attacks and praying for the Egyptian martyrs, Berin continued.
Egypt has closed the Rafah border crossing, while the Hamas government closed the tunnels between Egypt and Gaza, while also deploying more forces along Gaza's border with Egypt.


The attack took place on Sunday evening near the Karm Abu Salem crossing. Sixteen Egyptian soldiers and officers were killed, and seven others were wounded. According to Berins, power had been cut at the site of the incident while the Egyptian security officers were breaking their fast, and that Egyptian intelligence offcers were hosting Sinai tribal leaders when the attacks occured.


The Egyptian armed forces pledged to cooperate with the Interior Ministry to quickly restore security and stability on the border.


In a statement on Monday, the armed forces said, "This terrorist act will strengthen our faith and insistence on our sacred duty to protect the Egyptian borders."
Edited translation from Al-Masry Al-Youm