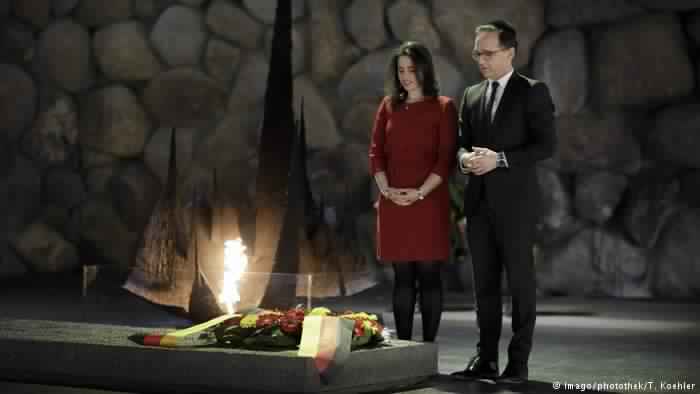 Pilgrims from all over the world head for the Holy Land to celebrate Easter. This year they will be joined by German Foreign Minister Heiko Maas. His two-day visit to Israel and the Palestinian territories begins on Sunday, at the start of Holy Week. After Paris, Warsaw and Rome, Jerusalem is the fourth stop on his first foreign tour as Germany's chief diplomat.
Maas will visit the Holocaust memorial site Yad Vashem. His agenda also includes talks with Israeli President Reuven Rivlin and Prime Minister Benjamin Netanyahu, as well as with Palestinian President Mahmoud Abbas. In his inaugural speech as foreign minister, Maas indicated that good and friendly relations with Israel were important to him. He will, however, need to employ considerable diplomatic skill to overcome the frostiness of recent months.
There were several diplomatic spats last year, indicating the degree of frustration that has accumulated in the relationship between Israel and Germany. In May 2017, Chancellor Angela Merkel canceled pending German-Israeli government consultations. The official reason was scheduling problems. However, just one month earlier, Netanyahu had canceled a meeting with Germany's then-Foreign Minister Sigmar Gabriel, because Gabriel had spoken to organizations that were critical of the Israeli government.
Now Maas is trying to pour oil on troubled waters. A detailed look at the areas of conflict shows just how much work he has in store.
Conflict 1: Israel's settlement policy
The main stumbling block is Israel's settlement policy. Even though the peace process between Israel and the Palestinians has effectively ground to a halt, German diplomacy is still insisting that they must not throw away the chance for a peaceful two-state solution. Meanwhile, Netanyahu's current hardline coalition's policies are creating facts on the ground. Settlement-building in the occupied Palestinian territories continues apace. Every new building reduces the space a Palestinian state would need to co-exist with Israel and still be viable. The German government regards Israel's actions as wrong and in contravention of international law — and it has publicly said so on numerous occasions. Tensions were heightened last year by the EU ruling that Israeli products coming from the occupied Palestinian territories must be labeled accordingly. It's unclear how Maas might be able to address this.
Conflict 2: The Jerusalem question
Bilateral relations have not been eased by US President Donald Trump'shighly controversial decision to move the American Embassy from Tel Aviv to Jerusalem. Germany rejects the unilateral recognition of Jerusalem as the capital of Israel: It urges that the status of the Holy City should first be clarified in the context of a multilateral peace agreement. Before Trump's decision, the German government warned of a global increase in anti-Semitism and hostility towards Israel. However, Netanyahu cannot praise Trump enough for taking what he calls a brave step. There is also a need for discussion of what sort of chance a two-state solution still has in the current climate of confrontation.
Conflict 3: UN Security Council seats
No less contentious is the fact that Germany has put itself forward as a candidate for one of the 10 non-permanent seats on the United Nations Security Council. Along with the five permanent members – the United States, Russia, China, France and Britain – the UN's highest council is made up of 10 other members who are elected at regular intervals. These non-permanent members then sit on the Council for two years. The tricky thing is that Germany's current candidacy pits it directly against Israel. Both countries have applied for the same position as a non-permanent member of the UN's highest council for the year 2019/2020. The decision will be made in a run-off election in June. Many in Israel are demanding Germany step aside for its "partner," arguing that Germany was on the Security Council in 2011/2012, while Israel has never been on it in the 70 years since the state was founded. In his inaugural speech, Maas stressed the importance of Germany's candidacy. A crucial vote between Germany, Israel and Belgium, which has also put itself forward, is almost inevitable.
Conflict 4: Anti-Semitism in Germany
Many Jews are also concerned about the increase in overt anti-Semitism that has been observed of late in German society. The director of the Simon Wiesenthal Center in Los Angeles, Rabbi Meyer May, made an urgent address to the German public. In an interview with the newspaper Die Welt, he spoke of an increase in hatred of Jews in Germany, triggered by "the influx of Muslim refugees." He also described this influx as "a cancer." After Trump's decision on Jerusalem, Germans were shocked to see Israeli flags being burned at Arab-led protests in Berlin. As Germany's acting justice minister, Maas strongly condemned this anti-Semitism. "Anyone who attacks Jewish life must be prosecuted with the full force of the constitutional state," he said in January. When he arrives in Jerusalem as foreign minister, he will need to take a stance on this issue, too. Earlier this year, several members of the acting German government held out the prospect of appointing a special commissioner to deal with anti-Semitism. Whether this will be enough for Israel is debatable.
70 years of Israel
Israel's upcoming anniversary provides a good opportunity for building bridges. According to the Jewish calendar, the state of Israel celebrates its 70th birthday this year on April 19. This will be a rather delicate balancing act for Germany, given its historic responsibility for the Holocaust and the systematic extermination of more than 6 million Jews. Maas has already announced that he will return to Jerusalem for the anniversary.