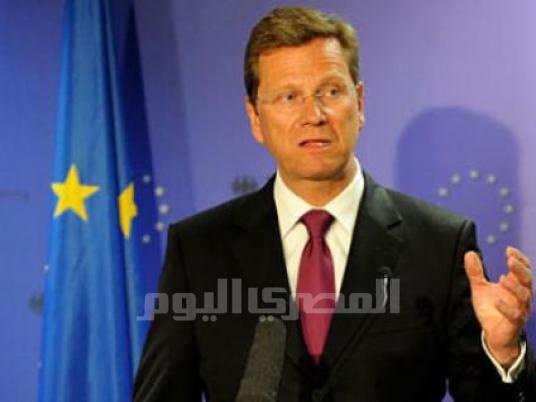 German Foreign Minister Guido Westerwelle said on Tuesday after talks with Egyptian President Mohamed Morsy that he was confident the country would resolve its mounting power struggle.
Westerwelle, the first Western minister to visit Cairo since last month's watershed presidential election, said Morsy had assured him he respected the authority of the country's constitutional court, despite his decree to reinstate parliament against its wishes.
"I have the impression that a solution can be found," Westerwelle told reporters after the 40-minute meeting.
"There is still no guarantee that the way towards democracy will be successful but we want to do what we can to ensure that it succeeds."
"The newly-elected, first democratic president assured me that he does not aim to question the decision of the constitutional court but that this is rather about how to organize the ruling's implementation," he added.
Westerwelle also delivered a personal invitation by Chancellor Angela Merkel to visit Germany which he said Morsy accepted for a date still to be agreed.
He said Morsy assured him he would respect all of Egypt's international agreements "including those in the Middle East" — a reference to Egypt's historic 1979 peace treaty with Israel.
Germany is Israel's closest European ally, rooted in the country's historical responsibility for the Holocaust.
Westerwelle called Egypt "the key country for the success of the Arab Spring," and that his visit was intended to underline the support of Europe's top economy for Egypt's democratic "transformation".
Germany has been one of the biggest financial backers of Egypt's transition since the ouster of veteran president Hosni Mubarak last year, as investment and tourism have lagged because of the political turmoil in the country.
The talks came amid a showdown between the powerful military and the Islamist-dominated parliament which convened on Tuesday in defiance of the generals, following a decree by Morsy to reinstate the assembly.
The Supreme Council of the Armed Forces, which handed power to Morsy last month after his election, backed a constitutional court ruling against Morsy's order on Monday, saying the rule of law must be upheld.
The presidency has insisted the decree "neither contradicts nor contravenes the ruling by the constitutional court."
The Muslim Brotherhood, which Morsy quit when he won last month's poll, said it would take part on Tuesday "in a million-man march in support of the president's decision and reinstating parliament."
The tensions prompted US Secretary of State Hillary Clinton to call for "intensive dialogue" among all sides to bring an end to the crisis.
While in Cairo, Westerwelle also held talks with Arab League chief Nabil al-Araby.
Delegation sources said they discussed mooted new UN measures to ratchet up the pressure on Syria to stop the deadly strife in the country, as well as a broader role for regional partners in trying to end the bloodletting.