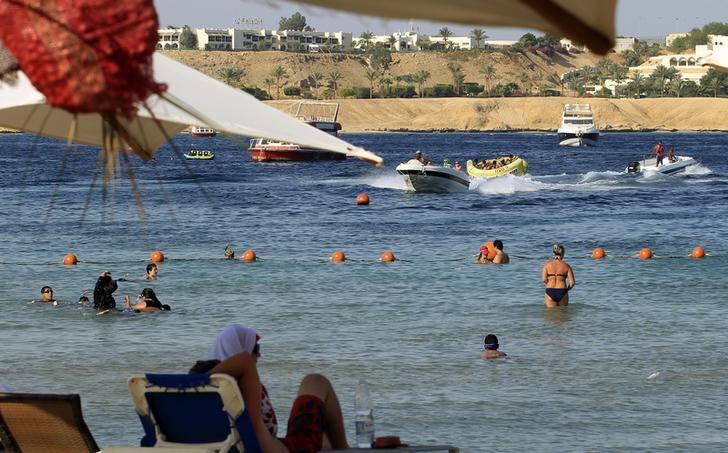 The German Foreign Ministry announced it would lift the travel ban on Egypt's city of Taba and the coastal strip on the Gulf of Aqaba, as exceptions to the ban imposed by German authorities on tourism of German nationals to Sinai.
The announcement was applauded by Egyptian officials and tourism sector workers, and German tour operators.
Tourism Minister Rania al-Mashat welcomed Germany's decision to lift the travel ban on Taba, stressing that it would contribute significantly to increasing German tourism traffic to Egypt in general and South Sinai in particular.
She said that the decision is an important indicator of Egypt's security and stability, and showcases the distinguished political and economic relations between Egypt and Germany.
Mashat called for developing an urgent plan to maximize the benefit from the German decision, through innovative marketing programs in Germany and other European countries for Egyptian tourist attractions using technology.
Ambassador of Egypt in Berlin, Badr Abdelaaty said that indicators already show a growth of incoming tourism from Germany to Egypt, anticipating that this decision would push these rates forward.
He stressed that challenges still face Egypt's desire for larger tourism flow from Germany.
Abdelaaty suggested  promoting diverse types of tourism, such as cultural tourism. He praised the meetings of the Minister of Antiquities with German officials and his talk about the newest archaeological discoveries over 2018 and the Grand Egyptian Museum.
"I spoke to Prime Minister Mostafa Madbouly, during his visit to Frankfurt last week accompanied by the ministers of communications, investment and transport, about the establishment of a high-speed rail line between Hurghada and Luxor which will have a great positive impact on easing, securing and speeding up the transfer of tourists," Abdelaaty said, adding that Madbouly praised the idea and promised to study it.
Said al-Batouty, Professor of Macroeconomics and Tourism Economics at the University of Frankfurt and member of the United Nations Economic Commission for Europe and the World Tourism Organization, also praised the German decision and said that it would contribute to increasing public pressure in many other countries, especially Russia and the UK to review travel bans imposed on the same areas in Sinai.
Egypt is expected to significantly benefit from the decision, especially as the German market is the most stable in terms of the rates of citizens' tendency towards foreign tourism, Batouty pointed out.
The average percentage of  German nationals who go on foreign tourism trips is about 70 percent of the country's population, he said, adding that German tourists who visited Egypt in 2018 despite the travel ban recorded 1.7 million tourists. He expected the number to increase soon by six percent.
German tour operators responded quickly to ban lift and began preparing for tourism programs to the resorts of Taba, Dahab and Nuweiba. They also requested running charter flights directly from different German cities to Taba Airport.
According to Batouty, flights are scheduled to run starting the winter season in early November.
Edited translation from Al-Masry Al-Youm