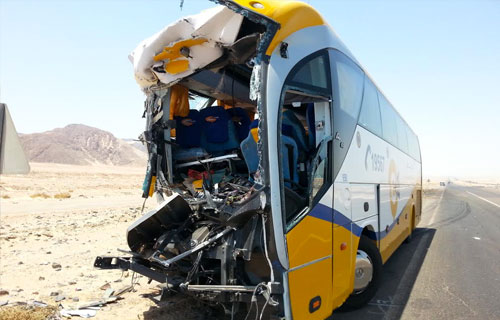 Despite recent televised issued from the head of Egypt's General Roads and Bridges Authority, Adel Turk, stating the license suspension and rides halt of 'Go Bus' trips to al-Alamein, there is evidence that the company is still running routes to the city.
The suspension followed a fatal bus collision with a truck that killed six people.
The 'Go Bus' customer service department told an Egypt Independent reporter that it was still running trips to al-Alamein, when they contacted the company as a customer looking to book a trip to the city.
In televised statements, Turk asserted that the license of the 'Go Bus' company had been suspended following the al-Alamein accident, adding that the company trips to the city were disabled.
The accident has created controversy across Egyptian media, who raised questions on the standards followed at the company to ensure passenger safety. The accident did not only kill six people but seriously injured 20 others.
The company released a statement after the crash expressing remorse for the incident and noted that the 2017 bus model is relegated to regular checks.
The company added that it will take on all medical costs of the injured survivors and will pay 100,000 EGP  in compensation to the families of the deceased.
'Go Bus' asserted that the bus driver a professional at the company and has passed all the training sessions and medical examinations.
The head of the company, Maher Nassief, said in a statement to 'Al-Mal' newspaper, that his company did not commit a crime, adding that if the government suspended licenses of every bus company over an accident,  bus companies would disappear from Egypt.
"The truck's driver is responsible for the accident," Nassief explained, but went on to say, "the bus driver did not fall asleep during the trip as is rumored."
Among those injured in the crash, were three kids who are currently in intensive care, preparing for surgery. The kids were headed to the North Coast's beaches with a relative who died in the accident.
The wife of the aforementioned relative said in a media statement that her husband was on the trip to accompany her her sister's children. He was not able to drive his vehicle, so he booked with the 'Go Bus' bus company.
She complained that the al-Alamein hospital, where the victims were first transferred, showed remarkable negligence, explaining that her husband's personal belongings were stolen at the facility.