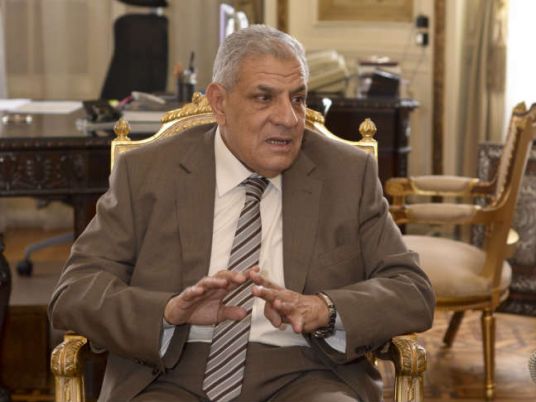 Indignant government employees will escalate their requests concerning the Civil Service law to demand the removal of Prime Minister Ibrahim Mehleb.
The employees, mainly from the Finance Ministry, staged massive protests outside the Journalists' Syndicate last week aiming to revoke the law enacted in March, which they say encroaches on their financial rights.
The workers cancelled a protest slated for Sunday after failing to obtain a security approval, but vowed a larger demonstration before the end of August to call for Mehleb's resignation.
The Civil Service law regulates the appointment criteria, vocational degrees, payments, retirements and promotions for civilian workers at government agencies. It has drawn criticism from labor rights activists and several trade unions. The government, meanwhile, says the law will improve the state's administrative bodies and correct flaws in the old law.
Tarek Koeib, who heads an independent union of workers at the Egyptian Tax Authority, said in a press conference on Saturday that the union was going to hold an urgent meeting Sunday with representatives from several government agencies to discuss plans for the upcoming demonstration.
"We will continue to escalate our efforts against the law since our demands have been met with silence and stubbornness culminating in the cancellation of our protest, despite fulfilling all of the procedural requirements needed to hold it," said Koeib. "Security authorities have adopted arbitrary, illegal measures to cancel the protest, which have prompted employees to seek further escalation by raising the ceiling of their demands to call for the removal of the prime minister," he added, noting that the employees' demands are currently directed toward the presidency.
The government, on the other hand, is apparently taking steps to sooth the disgruntled employees while adhering to the controversial law.
Magdy Shaaban, who heads the official union of workers at the Finance Ministry, said Prime Minister Ibrahim Mehleb has approved a new system of incentives. Shaaban said the planned scheme will reward the most productive ministry agencies with extra financial incentives.
Edited translation from Al-Masry Al-Youm