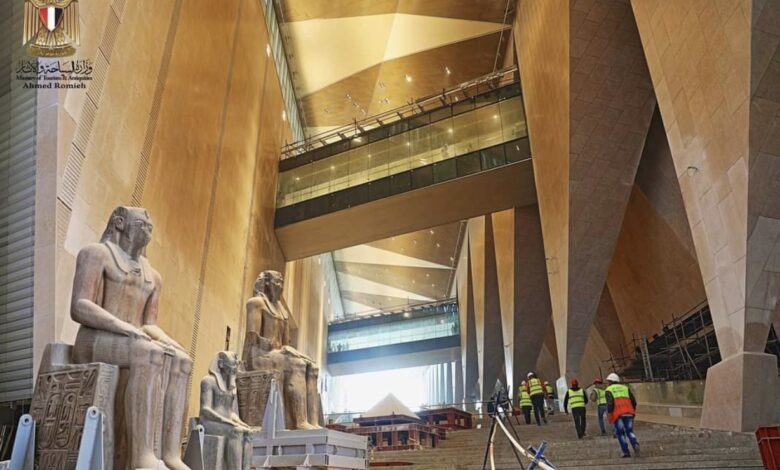 The Grand Egyptian Museum (GEM) started offering a limited number of guided tours in some areas, as of Wednesday, March 8, 2023.
The tours, which can be booked through the GEM official website only, include the gardens and the commercial area that offer a number of restaurants, cafeterias, shops for leading Egyptian brands, and the gift shop.
Areas open for visits also include the hanging obelisk area, the main reception known as the Great Hall, and the glass foyer.
During their tour of the Great Hall, visitors will also be able to see the artifacts it contains, including the statue of King Ramses II and the column of King Merneptah, which depicts scenes of his victory in wars against Libyan tribes, addition to two statues of a king and queen from the Ptolemaic era.
The tours will not include any of the museum exhibition halls, which will remain closed, until the official opening date of the museum.
The official opening of the museum will be attended by kings, presidents and senior officials from all countries of the world.
Starting from November 2022, the GEM hosted some carefully selected events, including singing and instrumental evenings and has organized some private visits.
This was to see the eventual readiness of the services and to test the tourism experience.
When will the GEM inaugurated?
Magdy Shaker, the chief archaeologist at the Ministry of Tourism and Antiquities, said the museum is ready to open, but some external preparations were being finalized before the official opening date announced.
Constructed on approximately 500,000 square meters, the new GEM is located nearby the Giza Pyramids and will house the world's largest antiquities collection belonging to a single culture's heritage.
The GEM is set to showcase 5,000 relics from Tutankhamun's collection as well — including 2,000 artifacts displayed for the first time.
The museum includes huge exhibition halls, and is distinguished by its proximity to the Giza pyramids area and the New Administrative Capital, which makes it a gateway to Egypt's past, present and future.
It is expected to attract about five million tourists.
How to visit the GEM?
The visit should be booked on the official website of the GEM, during which the visitor determines the date and time of the visit, in addition to determining the type of tours and accordingly the prices are determined.
Free entry tickets are available only at the museum's main ticket sales windows for children under four years of age and people with special needs. Prices for Egyptians range between LE75 and LE150.
Visiting hours start daily at the GEM from 9 am to 6 pm.