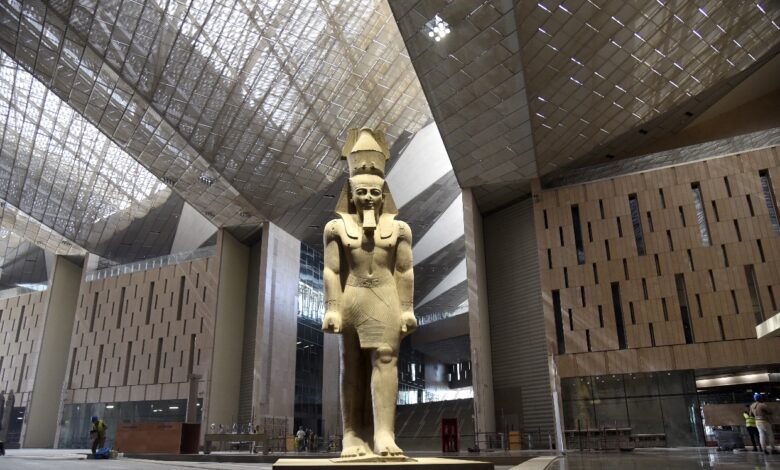 The Arab Water Council announced on Tuesday that the Grand Egyptian Museum won the Environment and Development Forum 2022's "Green Building award".
The award was presented on the sidelines of the forum held in Cairo under the title "The Road to Sharm el-Sheikh – Conference of Parties to the United Nations Framework Convention on Climate Change COP27".
The Vice-President of the Arab Water Council and Chairman of the Awards Evaluation Committee Walid Abdel-Rahman said that a committee of specialized experts examined all submissions and selected the winner.
The GEM won the competition as the best project in the field of Green Buildings.
Major General Atef Moftah, who supervises the implementation of GEM project, received the award, which included a documentary film about the project and its implementation stages.
Moftah said that the museum's implementation rate has reached 100 percent and has received a variety of artifacts.
The structural work and external facades of the Khufu Boat Museum have been completed by 100 percent, and the volume of achievement in implementing ICT communication and security systems is now 98 percent.
He added that all dimensions of green building and sustainable development are being integrated into the museum project, including obtaining green building certificates, in line with its cultural value and being one of the most important and largest museums in the world.
Moftah assured that the state will be raising the efficiency of water and energy conservation inside the museum by reusing water and reducing its consumption, especially those used in agriculture, as well as the measurement and detection system for leakage, reducing heat and using renewable energy sources.
He explained that adopting the museum as a green building also includes ways to manage the quality of the internal environment by improving ventilation performance, using natural ventilation and air flow calculations that will comply with the minimum required ventilation rates.