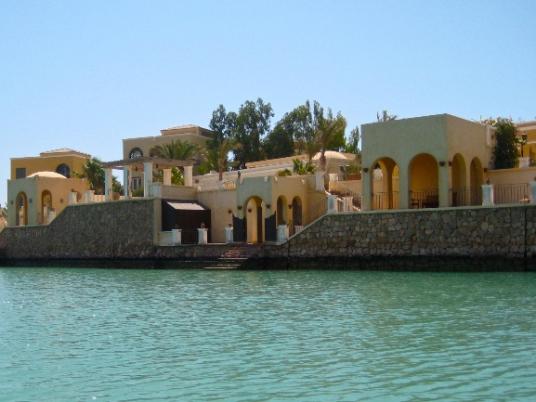 Finding a dining spot in Gouna can be tricky and confusing, since there are a lot of options and many different cuisines for one tiny town.
The Marina is now the center of all activity within the coastal town. After walking around the beautiful and cheerful landscape, a dinner at La Scala is highly recommended. Their open-air setting is breathtaking and the food is simply scrumptious. Bread and three types of dips are presented on all tables; the olive paste and tomato dips are fresh, but the arugula pesto is peculiar. For the salads, the Caprese and arugula salads are superb; the ingredients are super fresh and the seasoning is perfect.
Like most Italian restaurants, La Scala's pasta is tasty and fresh; pasta alla marinara is very much recommended. You may want to avoid some of the meals, including the fish and their risotto, which wasn't quite up to the standard of the pasta at the time of this review.
Chez Chantale inside Turtle's Inn is another fine dining destination you shouldn't miss if you like your steak flavorsome and juicy. The signature Chez Chantale Steak is recommended, but if you have a sensitive digestive system, ask the waiter to use a little less black pepper and cream. Do ask for the special daily menu and their dessert menu, as they are full of appetizing surprises. The waiters are friendly, though the interior of the restaurant is a bit dated.
If you are done with fine dining and looking for a meal without fuss, Maison Thomas is a nice option for a relaxed meal. Sit outdoors, as the view and breath of fresh air will enhance your meal and your appetite. You'll be delighted to know the pizza is tastier and less oily than the Cairo branches: the Napolitana will disappear off your plate. The chocolate caramel cake wasn't quite as good, but the cheesecake made up for it. The sandwiches are fresh, the service is impeccable and the branch in Gouna also serves alcohol.
Bua Khao Thai restaurant inside the Movenpick is another great spot for casual dining. Although it overlooks the pool, the food compensates for the rather bland view. The seafood is fresh, and the fried rice is nicely cooked. The blend of coconut milk and curry will tingle your taste buds, while the cooks' expert stir-frying makes the food light and tasty. A soup is a must. Prices are little on the high side, however, so be preapared for a dinner for two to cost up to LE300.
For a drink and a breathtaking location, go to Maritim for some Swedish delicacies and mouthwatering snacks. Prices in almost all of Abu Tig Marina are expensive; main courses range between LE100 and LE150 but you're certainly spoiled for choice, and you'll have some delicious food memories to take with you when you leave.
This piece was originally published in Egypt Independent's weekly print edition.