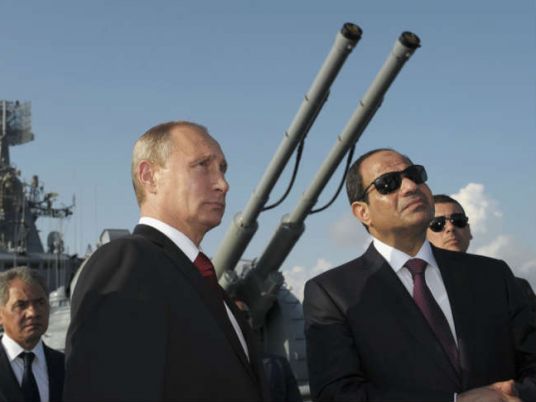 The Israeli newspaper Haaretz suggested on Monday that President Abdel Fattah al-Sisi is taking revenge on the United States for what it calls interference in Egypt's internal affairs.
In his report, Israeli political analyst Zvi Bar'el quoted the Egyptian Foreign Ministry as ironicly demanding the US authorities to exercise restraint in the riots that took place in Missouri following the killing of a young black American by the police.
He said this unprecedented statement by Egypt was not surprising in light of the prevailing tension between Egypt and the US administration, as Washington accused Cairo of violating human rights a few days before officials of Human Rights Watch were denied entry to Egypt to present a report about the dispersal of the Rabaa sit-in.
Though many tourists receive visas upon entry, the Egyptian authorities said the officials were refused because they did not apply for a visa, a behavior that the Egyptian government deemed proof that such organizations believe they are above the law.
Bar'el said that despite repeated visits by Secretary of State John Kerry and statements of the US administration about Sisi leading a democratization process in Egypt, the United States is still freezing part of a military aid that has been earmarked for Egypt.
He said the revenge Sisi is taking is manifested in his declaration of the Egyptian initiative for a cease-fire in Gaza without consultation with Washington, which has surprised the United States, and in declining all the invitations he received to visit the United States, preferring to go to Russia, his first destination outside the Middle East, to meet with President Vladimir Putin.
He said Russia was not a courtesy visit because Sisi had visited it when when he was defense minister and agreed on a Russian military aid package for the Egyptian army, which means his latest visit was to implement that agreement.
He said the agreement included MiG-29 fighter planes, advanced anti-aircraft defense systems, Mi-35 helicopters, naval defense systems, light weapons and ammunition and perhaps even S-300 missiles.
He said that a Russian delegation visited Egypt last Friday to conclude talks on the arms sale, which is likely to be funded by the United Arab Emirates.
"These deals irritate those sitting in Washington," he wrote, wondering if Egypt intends to repeat the game Gamal Abdel Nasser played before and if the United States has actually begun to lose its influence in Egypt.
He said it is premature to claim Egypt is changing its destination because relations with the United States are still strong, not because of the US$1 billion that it receives each year from Washington (the Gulf states gave US$5 billion in a single year), but because Egypt relies on the United States in matters pertaining to global financial institutions, mainly such as the World Bank and the International Monetary Fund.
Bar'el believes that Sisi seeks more independence from the United States so as to create space for political maneuver, so Western criticism on issues that the Egyptian government has deemed "marginal," such as human rights, will not hinder its political agenda. Sisi's main concern, he said, is Egypt's economic reform and vanquishing the Muslim Brotherhood, which has now been branded as a terorist organization, as well as the jihadi groups in Sinai.
"In the three months since Sisi began his term as president, he has demonstrated diplomatic and political leadership skills, to the point where some observers compare him to his bitter rival, Turkish President Recep Tayyip Erdogan," he said.
He concluded by saying that the Gaza war allowed Sisi to assert that the interests of Egypt are above any Arab, Islamic or international interests.
"For his part, Gaza can go to hell if the Hamas leadership doesn't understand who is holding its lifeline," he said.
Edited translation from Al-Masry Al-Youm