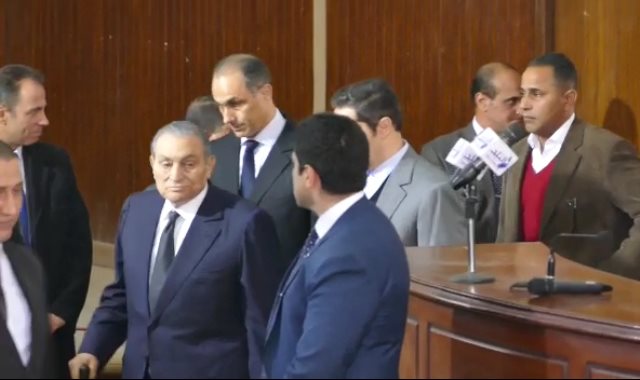 Egypt's former President Hosni Mubarak said on Wednesday that the former Chief of the General Intelligence Service (GIS), Omar Soliman, informed him that around 800 Hamas and Hezbollah militants infiltrated into Sinai through the tunnels from Gaza and used cars in the events of January 2011.
During the trial of former President Mohamed Morsi in Cairo Criminal Court, Mubarak added that the militants climbed up buildings and fired shots at the demonstrators in Tahrir Square. They also broke into Wadi al-Natron prison and released prisoners belong to Hezbollah, Hamas and the Muslim Brotherhood.
Mubarak refrained from answering some questions in the court, saying that he had to receive approval from Egypt's intelligence and military institutions before revealing confidential information regarding the events of January 2011 because they are concerned with Egypt's national security.
Mubarak accused Muslim Brotherhood elements of committing sabotage operations, causing chaos and helping infiltrators to attack police officers in Rafah and Sheikh Zuweid.
The Cairo Criminal Court had summoned Mubarak earlier in December as an eyewitness in the trial session of the "prison break-in" case, but he had failed to attend the trial session with no reasons revealed by media outlets at the time.
At the time, Mubarak's lawyer Farid al-Deeb said, "Mubarak will remain in the military service throughout his lifespan. [Summoning him as an eyewitness] in the case of breaking into prisons requires approval of the military institution, according to law No. 35 of 1979."
Deeb added that he had attended the trial session instead of Mubarak, as the military judiciary, not the public judiciary, should have notified Mubarak to attend the trial.
Criminal law professor Mohammed Bahaa Abu Shoka said that law No. 35 of 1979, issued by late President Anwar Sadat, honored commanders of the armed forces who participated in the 1973 War against Israel, allowing them to return to military service and give advice regarding military affairs due to their experience.
The case deals with the issue of prison break-ins during the uprisings of the January 25th revolution. Former President Mohamed Morsi and Muslim Brotherhood leaders were accused of planning the break-ins, which resulted in the escape of many terrorists and other criminals, leading to the scourge of terrorist activity in the country until President Abdel Fattah al-Sisi took control and tasked the armed forces with ridding Egypt of terrorism.
Edited translation from Al-Masry Al-Youm