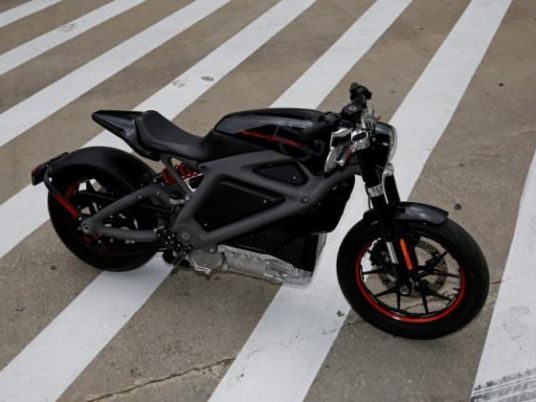 After the shares of Harley-Davidson Inc (HOG.N) took a wild ride last week on unconfirmed buyout rumors, the motorcycle maker's management is back to dealing with more basic problems, starting with pricing pressure in the US market and a stagnant share price.
Getting more people to walk into one of 600 US Harley dealerships and ride out on a new motorcycle remains a challenge for the Milwaukee company, and that has weighed on its share price for much of the year.
The motorcycle maker, intent on maintaining its premium status amid pricing pressures, has invested US$70 million in marketing and product development for 2016 to attract new, younger riders, reverse sluggish sales and boost US demand for motorcycles.
Harley extended into this month a summer sale that was supposed to end in June. Deals include a no down payment, $99 a month offer on the new $6,849 Street model, which is aimed at younger buyers.
"Typically Harley-Davidson does not have summer promotions like this," said Brian Rapier, sales manager at Fox River Harley-Davidson in St. Charles, Illinois. "It is definitely unexpected, but it is definitely welcomed. It is helping us sell more bikes."
Harley executives declined to comment, citing the "quiet period" ahead of the company's second-quarter earnings report, due to be released on July 28. Earlier this year, Harley executives said they were counting on the strength of the company's brand to avoid having to match price cuts by rivals.
"We are competing against wider price gaps and we're not going to compete by discounting," Harley's chief financial officer, John Olin, said during an April call with analysts.
The extended summer sale illustrates the competitive pressure on Harley's premium pricing strategy. Defending that strategy has other costs, including Harley's $70 million effort to reach new riders and produce new models.
"We believe we need the $70 million to grow the business despite wider price gaps that we expect to compete with into the future," Olin said.
When Harley reports results later this month, analysts will be looking for evidence that the new spending is paying off. A rumor on July 1 that Harley could receive a takeover offer from Kohlberg Kravis and Roberts sent the company's shares up 16 percent, but when no confirmation of a bid emerged, the share price this week gave up nearly all the gains.
Losing ground in a declining market
Harley is facing declining demand for motorcycles in its biggest market, the United States. From 2005 to 2015 overall US motorcycle sales fell 48 percent, according to data from the Motorcycle Industry Council.
Japanese rivals Honda, Yamaha Corp. and Suzuki Motor Corp, have used the favorable Yen-dollar exchange rate to cut prices and offer low-interest financing to attract younger riders.
Harley's larger bikes, such as the $21,899 Street Glide, also face new competition from brands such as Indian, a venerable US motorcycle name revived by Polaris Industries. Indian now has nine models arrayed against Harley's top of the line bikes.
"Our core customer is the same," said Steve Menneto, Polaris president of motorcycles. "As we ramp up, we are able to compete with Harley-Davidson."
Getting butts on bikes
Harley has struggled for years to expand its appeal beyond US baby boomers, a generation whose oldest members are celebrating 70th birthdays this year.
As part of its new marketing efforts, Harley is working with dealers to get "butts on bikes," by offering learn-to-ride academies at showrooms. The programs are free to veterans and first responders, and some dealers said classes were already full through the fall.
"Brands are struggling to attract to the millennials," or riders in their 20s and 30s, said Arum Kumar, consultant at AlixPartners. "They grew up in the Great Recession, they are a bit more price conscious."