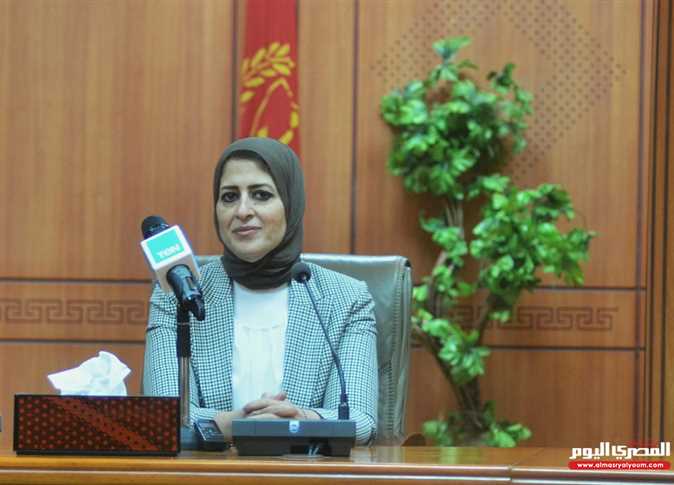 Egyptian Health Minister Hala Zayed said that she plans to bring the country's population growth rate down to 111 million instead of 119 million by 2030.
During the press conference, headed by Zayed at the headquarters of the National Council for Population, Zayed said overpopulation is a very important issue because it devours all developmental efforts in Egypt.
Zayed added that President Abdel Fattah al-Sisi is paying great attention to the overpopulation crisis, pointing out that overpopulation was one of the two main issues discussed in the Cabinet's first meeting with Sisi.
A meeting will be held in the last week of each month under Zayed's chairmanship to reach tangible results, follow up on the council's strategies and evaluate it regularly, she said.
The minister also announced assigning a task force on the population problem, set to begin work starting Sunday.
The council will launch an initiative targeting villages with high birth rates. She explained that the initiative will work on providing the needs of families in these villages, including job opportunities, and will deliver family planning messages in an unconventional way.
The minister explained that Egypt would be divided into multiple stages according to the size of the population problem in each governorate, in accordance to studies prepared in this regard.
Zayed added that the Health Ministry will cooperate with civil society organizations to improve the living conditions of families with the aim of raising awareness through family planning means. She stressed that the state will work on addressing the population crisis during the coming period in a different way than before.
Regarding the National Council for Population's role, Zayed said the council will be coordinating and participatory, setting policies, plans and programs as well as monitoring and evaluating their results and implementations.
The council will conduct research and studies to spread awareness of the danger of overpopulation and its consequences, Zayed explained.
Dr Amr Hassan, the council's rapporteur, said that the meeting was the first of its kind in four years with a health minister.
He stressed the importance of unifying efforts for a single vision to resolve the country's overpopulation crisis.
The meeting also recommended a monthly meeting by the council to be chaired by Zayed, as well as a monthly coordination meeting to be attended by all the members of the council under Hassan's chairmanship.
Other recommendations included restructuring the executive committee of the council, issuing periodic reports on the population situation, and developing the electronic information system tracking population rates.
Edited translation from Al-Masry Al-Youm