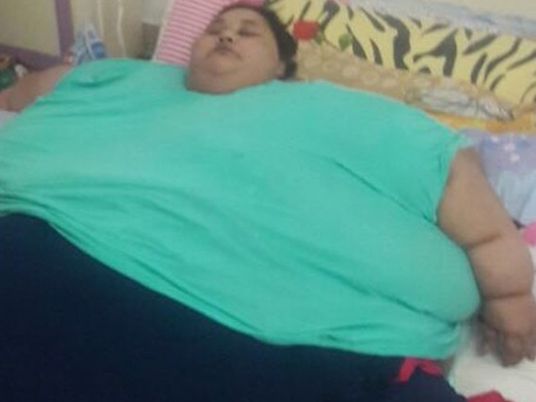 Eman Ahmed, an Egyptian known as the heaviest woman in the world, has lost 100kg over the course of three weeks.
Eman has been on a liquid diet that contains protein and dietary fibers, in accordance with doctors' instructions ahead of surgery, the Hindustan Times reported.
Her huge weight is said to be due to an imbalance in her glands, which caused an accumulation of liquids.
Eman is expected to lose 200kg in six months as a result of surgery that she will undergo in addition to the diet.
In December 2016, Indian Foreign Minister Sushma Swaraj helped her obtain a visa to India, where local doctors are supervising her case.
She was admitted to an Indian hospital in February after eminent Mumbai-based surgeon, Dr. Muffazal Lakdawala, succeeded in his fundraising initiative to fly the Egyptian to India for treatment.
Eman has suffered from obesity since she was a child due to a hormone imbalance and problems with her glands. As she reached adulthood, she gained so much weight that she could only move around her house in Smouha, eastern Alexandria, by crawling on her hands and knees.
As she weighed over 500kg, she couldn't even leave her bed.
Edited translation from Al-Masry Al-Youm