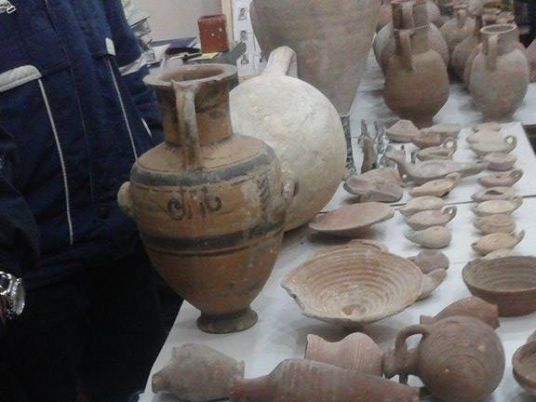 Isna Prosecution in Luxor ordered the seizure of two basements of a house in Darb al-Rawageh area, where illegal excavations were taking place. Fourteen ancient artifacts and relics were found and delivered to the stores of the antiquities authority.
Major General Essam al-Hamly, Luxor security chief, was notified by the tourism police that a 39-year old employee was excavating monuments. The employee was previously involved in two other similar cases.
Police troops arrested the suspect while he was excavating. Inside his house, a hole 1.5 meters in diameter and seven meters in depth was found, leading from the northeastern side to a basement three meters in length and containing a wall made of sandstone with hieroglyphic writings and a royal cartouche.
Another basement was found from the southeastern side. It contained a colored sandstone wall with drawings on it. From the western side, a hole with a depth of two meters was found.
A committee was delegated to draft a technical report about the basements. Various ancient relics were found, ten of them dating back to the Greek era, while the other four date back to the Ptolemaic era.
Two archaeological chambers were found inside the basement. There were writings and drawings of Nut, the ancient Egyptian goddess of the sky, in addition to a cartouche of King Ptolemy VI.
Another, third basement was found, however, its length was not determined as it extended under the neighboring houses.
Edited translation from Al-Masry Al-Youm