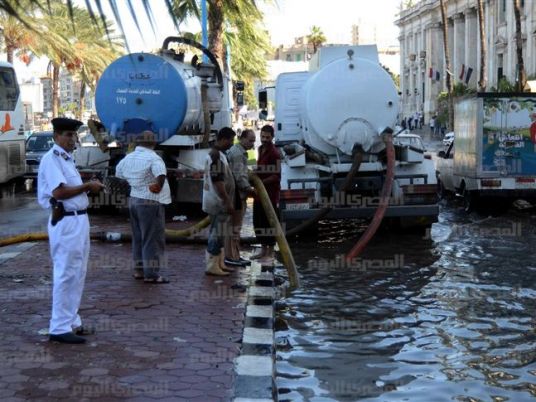 Dozens of houses in the Al-Karour area in Aswan have been flooded by wastewater after a main pipe burst for the second time in a month, causing water and power cuts in the neighborhood and surrounding areas.
The wastewater flooded homes, causing damage to furniture and electrical equipment.
Local government and security officials headed to the afflicted area to assist with the crisis.
The incident coincides with a strike by temporary workers in the municipality, meaning that trucks and other equipment had to be brought in from other areas. Water was being removed from homes with the assistance of pumping vehicles.
Resident Nagah Mohamed said this was the second time that the pipeline had broken within a month.
"We got compensation of between LE300 and LE400, which was not enough even to repair the refrigerator's motor," she said.
She added that the walls of the houses were cracked due to the previous flooding, and the damage is worse this time.
Ahmed Abdel Fattah, another resident, said the whole area is served by one wastewater pumping station.
The size and diameter of the main wastewater pipe is not suitable for the number of houses and residents it serves, he said. Moreover, the welding of the pipes takes place randomly and is of a low standard, resulting in various leaks.
He added that the vehicles sent to pump the water from the flooded homes arrived, which meant residents had to remove much of the wastewater by hand, their possessions already ruined.
Mohamed Awadallah, a trader from the area, estimated his losses at tens of thousands of pounds after huge amounts of merchandise stored at his house was damaged by the water.
The governor ordered the formation of a committee from Aswan University's Faculty of Engineering to inspect the pumping station, draft a technical report on the reasons for the accident and propose solutions.
He earlier referred several officials to the prosecution for their role in allowing the previous accident to take place.
Edited translation from Al-Masry Al-Youm