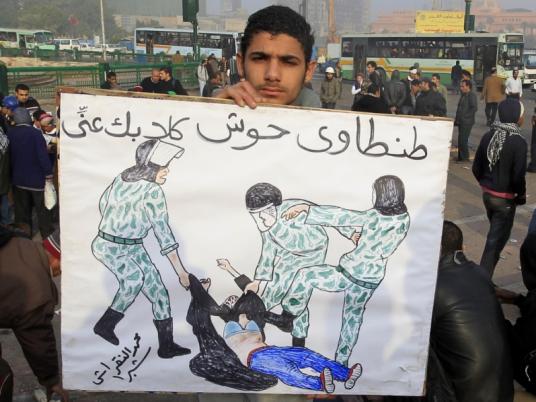 The Egyptian government's responses to the UN Special Rapporteur's report on the right of peaceful demonstration and the freedom to form associations "were weak, had flimsy arguments and logic, and were deliberately misleading to the international public opinion," said the Cairo Institute for Human Rights Studies (CIHRS) in a statement released Thursday.
CIHRS indicated that the government has ignored the Special Rapporteur's memos, such as the report on the dragging and beating of female activists by soldiers during violent clashes that broke out near the Cabinet building last December. The Special Rapporteur has not received any response about this incident from the government, as well as several other incidents, according to his report.
CIHRS said that the Egyptian government's statements and actions suggest that it would continue to exercise more repression on NGOs and would continue to mislead international public opinion.
The Egyptian government has launched a sharp attack on civil society organizations through state media channels, such as accusing them of treason in press releases, the statement went on to say. However, the actual investigative documents and charges filed against these organizations did not have any reference to threatening national security, suggesting that these are not valid accusations.
The government used every possible method to tarnish the reputation of NGOs, including by involving the judiciary, the statement alleged.
CIHRS spoke on Thursday before the twentieth session of the United Nations Human Rights Council in Geneva during a session on the Special Rapporteur's report.
CIHRS urged all the member governments to apply the recommendations for Egypt included in the Special Rapporteur's report to their own countries. They advocated that in regard to the freedom to create associations, governments should adopt an approach of "notification" whereby individuals can simply notify the appropriate authorities once a new association has been formed, as opposed to the approach of "consent," which requires completing bureaucratic procedures to obtain government approval.
Edited translation from Al-Masry Al-Youm