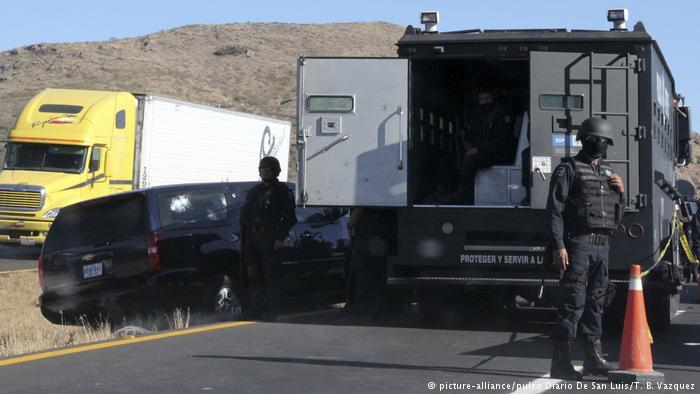 Mexican officials announced late Saturday that they had taken into custody more than 300 Central American migrants who were being smuggled to the United States. The men, women and children "were travelling in grossly overcrowded conditions without enough ventilation, food or water," Mexican authorities said in a statement.
The migrants were from Guatemala, Honduras and El Salvador and included 55 children who were traveling with their parents or relatives, and 24 unaccompanied minors.
The largest group was found in Tamaulipas in Mexico's northeast, near the border to the US state of Texas, Mexican immigration enforcement officials said. Two trucks were stopped at a highway checkpoint and scanners detected 198 people inside.
Photos released by the institute showed people crammed inside a shipping container wearing jackets and wrapped in blankets. "They were traveling in deplorable conditions," the statement said. Three people were arrested for alleged human trafficking.
The Mexican Immigration Institute (INM) tweeted a photo of the inside of the container, writing in Spanish: "At the @INAMI_mx — SEDENA checkpoint, in #Oyama, #Tamaulipas, two trailers were detected with 198 migrants who traveled in deplorable conditions."
Second incident in days
On Friday, the Mexican Immigration Institute issued a statement saying that a truck had been found in the Gulf coast state of Veracruz which was transporting 102 central Americans who "displayed signs of dehydration and suffocation." The group included dozens of children.
Amnesty sounds alarm
In a recent report, Amnesty International has claimed that Mexican migration authorities are breaking international and Mexican domestic law by routinely turning back thousands of asylum seekers from Honduras, El Salvador and Guatemala.
Commonly known as the "northern triangle" countries, Guatemala, El Salvador and Honduras are among the most violent nations in the world. According to Erika Guevara-Rosas, Americas Director at Amnesty International, "These are heart-breaking stories of families, children, men and women fleeing from extreme violence in order to save their lives. Rather than providing them with the protection they are entitled to, Mexico is unlawfully turning its back on these people in need."
Asylum seekers from Central America are a main source of migrants trying to reach the United States, where President Donald Trump is clamping down on immigration and undocumented migrants.