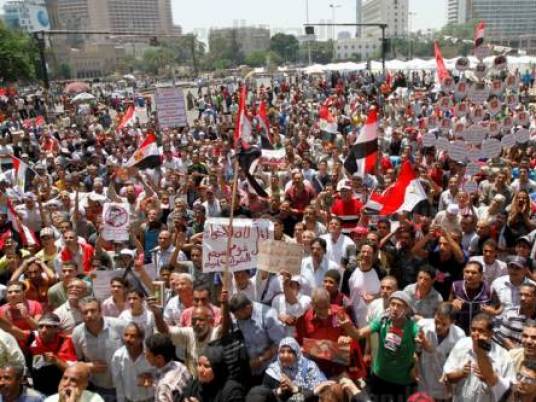 Hundreds of thousands have flocked to Tahrir Square to hear the second statement by Egypt's armed forces, which protesters expect to respond to the people and set in motion early presidential elections and constitutional amendments.
Hundreds held a symbolic funeral, roaming the square with a coffin of President Mohamed Morsy and his regime.
They called for the president to be prosecuted after his anticipated ouster, after placing him under house arrest for allegedly threatening to kill millions of Egyptians if unseated from power.
Some anti-government demonstrators hold Morsy responsible for the 18 protesters killed in front of Cairo University, eight of them reportedly immediately after his speech.
Protesters called the late Tuesday address the "End Speech," as Morsy emphatically reiterated earlier claims to legitimacy as Egypt's elected president despite landmark protests against his rule on 30 June.
They chanted slogans against Morsy and the Muslim Brotherhood, and slaughtered three sheep, representing Morsy, Muslim Brotherhood leader Khairat al-Shater and its Supreme Guide, Mohamed Badie.
Edited translation from Al-Masry Al-Youm