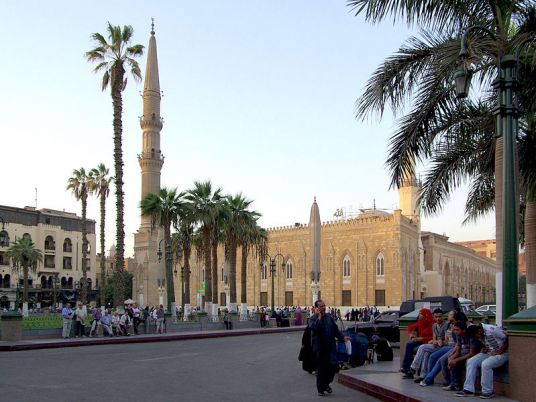 Hussein Mosque and the surrounding mosques were closed on Tuesday afternoon to prevent Shia citizens from practicing their traditional rituals during the Ashura celebrations.
In a statement on Tuesday, the Endowments Ministry said: "Sectarian religious practices will not be allowed on Ashura or any other day."
The ministry ordered that the doors of Hussein Mosque be closed to prevent access to the shrine, while security forces were deployed in the surrounding area.
Dozens of citizens — believed to be followers of the Shia sect — arrived at the mosque hoping to take part in the celebrations, but staff in the building told them to leave the area after each prayer.
Police officers deployed in the area searched passers-by and checked their identities, seeking to prevent any clashes between Shias and Sunnis.
The Interior Ministry formed a task-force to investigate any Shia celebrations taking place in Greater Cairo and governorates.
Shia leaders were instructed to not to organize celebrations at mosques or shrines due to the risk of clashes with Sunni hardliners.
Khaled Khedr, the head of Cairo Endowments Department, told Al-Masry Al-Youm that mosques in the areas of Hussein and Darrasa were closed for security reasons and fear of violence.
Ashura is celebrated each year by both Sunnis and Shias as an optional day of fasting. Muslims commemorate the day that God parted the Red Sea in order to allow Moses and the Jews to leave Egypt safely, as well as the day that Noah left the Ark after the flood.
However, Shias also commemorate the martyrdom of Hussein, a grandson of Muhamed, at Karbala in 680 AD. The head of Hussein is believed by Shias to be buried in the shrine at Hussein Mosque.
In majority Shia nations, people often gather at shrines and mosques and parade through the streets showing signs of mourning, such as slapping their chests. In some areas, men will flagellate themselves with chains or cut their foreheads, emulating the suffering of Hussein. Some Shia leaders discourage the blood-letting practices, saying they give a backward image of Shia Islam.
The Shia population of Egypt is small, probably no more than one percent of the population. However, the Egyptian government has tradionally treated them with suspicion, seeking to prevent outward displays of Shia loyalty that might provoke security crisis or a surge sectarian tensions. In past decades, security and intelligence officials have identified Egypt's Shia community as potentially vulnerable to infiltration by foreign powers, such as Iran.