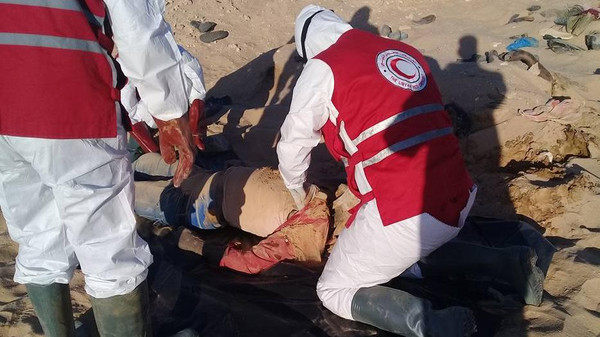 The Egyptian Foreign Affairs Ministry said on Saturday that the Egyptian Embassy in Libya's capital of Tripoli, currently undertaking operations from Cairo, received information that corpses of nearly 19 Egyptians were found in the desert area between Tobruk and Ajdabiya.
According to a statement released by the Ministry's official spokesperson Ahmed Abu Zeid, the 19 Egyptians had been in Tripoli as part of an illegal immigration trial, organized by illegal immigration gangs that are active in that area.
The ministry's official spokesperson noted throughout the statement that only seven corpses out of 19 have been identified through IDs found alongside other personal belongings next to their corpses.
The found IDs belonged to Egyptian nationals from the Upper Egypt's governorate of Asyut, Minya and the Egyptian delta governorate of Kafr Al-Sheikh.
"There is continuous co-ordination between the Egyptian authorities and its Libyan counterparts to transfer the identified corpses to Egypt and return them to their relatives, moreover the ministry is following up with the issue to verify the identity of the other corpses" the Foreign Affairs Ministry read.
On Friday the Libyan Red Crescent declared in a statement that it had found corpses of 48 Egyptian illegal migrants in a desert area between the Libyan cities of Tobruk and Ajdabyia.
The Libyan Red Crescent's statement asserted that the 48 discovered migrants were on their way to Libya to work. The organization said that 19 corpses have been lifted from the desert while the other 29  corpses still remain, as there is no means to lift them from the desert.
The death of the 48 is believed to be due to thirst or the effect of the desert elements. The corpses were found in a rotten state indicating that their deaths took place only a few days before, according to the Libyan Red Crescent.
Edited translation from Al-Masry Al-Youm