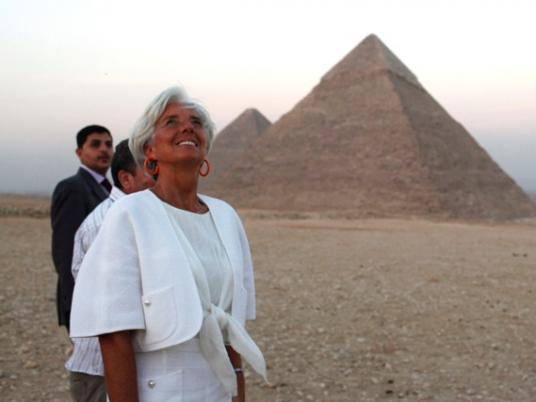 The International Monetary Fund delegation is scheduled to meet with Dostour Party founder Mohamed ElBaraei and Popular Current party founder Hamdeen Sabbahi on Saturday, as the delegation seeks to learn more about the opposition's stance on the US$4.8 billion loan currently being negotiated with the Cabinet.
Sabbahi told Al-Masry Al-Youm that in his meeting with the IMF, he would openly state his objections to the loan, which he believes would negatively impact the economy by increasing foreign debt at the expense of the poor.
The IMF's conditions on the loan have already started to be implemented, including price hikes and removals of longstanding subsidies, Sabbahi said. He warned of a potentially violent economic crisis should the loan be accepted, and claimed that the ruling Muslim Brotherhood lacked the ability to guarantee social justice for Egypt's citizens.
Amr Hamzawy, head of the Misr al-Horreya Party, met with the delegation on Thursday evening. He reportedly demanded greater transparency regarding the loan negotiations.
Hamzawy said that his meeting addressed a number of points. He pointed out that the current divisive nature of politics in the country was contributing to the economic crisis, and claimed that the government's inability and "failure to manage negotiations with the IMF transparently" was an important contributing factor.
Edited translation from Al-Masry Al-Youm