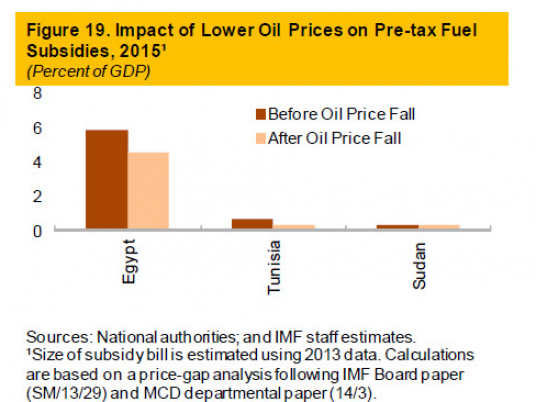 The International Monetary Fund (IMF) has revised upward its 2015 GDP growth forecast for Egypt 30 bps to 3.8 percent from 3.5% in October, it said in its regional economic outlook update on Thursday .
The IMF "Learning to Live With Cheaper Oil Amid Weaker Demand" report has also cut its forecast for this year's fiscal deficit 50 bps to 11 percent from 11.5 percent previously, according to report.
The sharp drop in oil prices has reduced energy import bills for oil importers in the MENA region, the report said
"Gains are particularly large in Egypt, where subsidy bills remain high despite recently initiated reforms; whether those gains will accrue to the budget will depend on country-specific arrangements between state oil companies and the government."
On the other hand, Egypt, where remittances are a major source of liquidity could experience tighter liquidity conditions if remittances decline, the report added.
On Monday the World Bank The Global Economic Prospects Report ,expected a 3.6 percent growth in real GDP in 2015, increasing from 2.9 percent in 2014.
The Report added that many variables, including the domestic exchange rate, the pressure of demand and a rise in value-added tax, have caused inflation rates to rise in some countries, including Egypt.
The report also estimated that GDP will rise even more to reach 3.9 percent in 2016 with the possibility of reaching 4.0 percent in 2017.