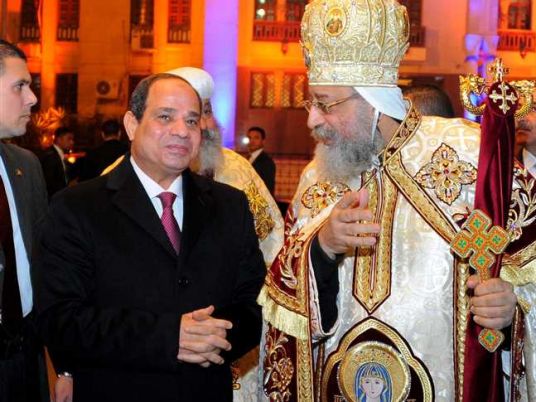 President Abdel Fattah al-Sisi revealed on Friday evening that he plans to inaugurate in January 2018 the largest church and mosque in Egypt in the new administrative capital, adding that he would be the first contributor to the construction of the church and the mosque.
Sisi said this during his participation in the Christmas celebration at the Cathedral of St. Mark, that next year will be marking its 50th anniversary.
The president called on contractors who are working on the new administrative capital to quickly complete the building of the church, the mosque, and a huge center of civilization by next year at the latest.
Sisi praised diversity among Egyptians and their unity adding that "those who reject difference between people understand nothing".
"God willing, next year we will celebrate the construction of establishments that reflect the great respect we have for each other, and each other's religions and choices," Sisi said.
The president also revealed the completion of restoration work at all the churches that were damaged during the past three years, except for a church in Minya and the another in Arish that are only missing the oil paintings. He pointed out that work in both churches would be completed over the next 10 days.
Sisi expressed felicitations to Pope Tawadros II of Alexandria and to the Coptic Christians on the occasion of Christmas, stressing the unity of Muslims and Christians in Egypt.