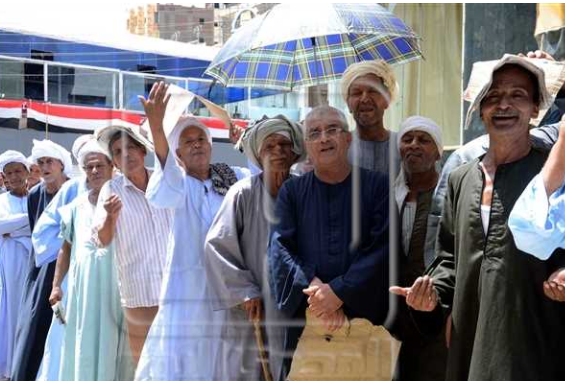 A number of pensioners complained that the 15 percent increase for pensions, approved by the government on Monday, is unsatisfactory and not commensurate with the increase in the prices of basic services like food, water, electricity and others.
Egypt's Cabinet approved on Monday an additional package of LE43 billion for social security, which included an LE20 billion increase for pensions, an LE2.25 billion increase to the Takaful and Karama program (family income support policy), an increase of LE7 billion in tax exemption and LE14 billion for state employees' wages as part of a series of government measures to reduce the burden on low-income citizens.
Minister of Social Solidarity Ghada Wali said the Cabinet had agreed to increase pensions by 15 percent, at a minimum of LE130 each starting from July 1.
A pensioner, Ali al-Qady, receives LE1,200 a month. A year ago this was enough to meet his his daughter's needs, Qadi said.
"Now this sum is not enough for five days in light of rising prices," he complained.
Upon the government's recent decision, he will receive an additional LE180, he added.
"I used to pay LE30 a month for the electricity bill, while nowadays I pay around LE150 a month. The electricity bill alone rose by LE120," he said.
Youssef Salah, a retired teacher, condemned the paltry increase in pension rates.
"I get LE1,500 a month, which should cover mine, my wife and my son's needs," he added. "If I had not worked in a law firm, it would not be enough for us."
Salah continued: "I used to buy our monthly needs from a supermarket for about LE300 or LE400. Now the same commodities are priced between LE1,000-1,200. Prices have been doubled, so pensions must double as well".
"Thank God. Any [increase] is better than nothing," said pensioner Asmaa Hosny. "We have to tighten our belt a bit so we can live."
Aoul Dahab Mohamed, another pensioner, said: "The increase is not commensurate with price hikes on the market, especially as the increase in prices is continuing without regulation. This 15 percent increase is insufficient if we want to cover all our bills."
The weak increase in pensions reflects the disrespect and lack of appreciation of the state toward pensioners who have been serving their country for years, said pensioner Ahmed al-Sayyed.
"We were working under harsh conditions, especially during the wartime. There was no room for talk about developing transportation or services that would help us to perform our jobs".
"We were optimistic about a decent life after the war ended, but we found out that the state barely approves an annual increase in our pensions. What is worse is that the increase is usually followed by further price hikes which means giving to us with one hand and taking with the other," said Sayyed.
Edited translation from Al-Masry Al-Youm