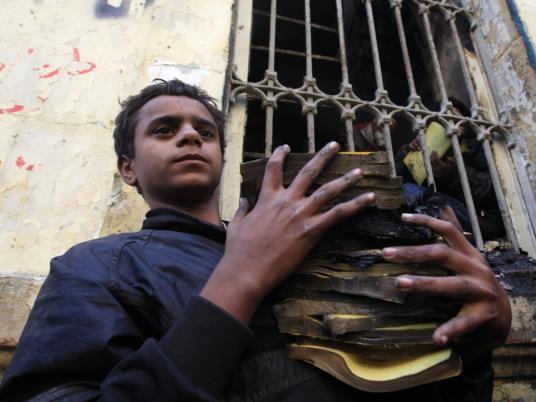 Culture Minister Saber Arab opened the Institut d'Egypte on Monday following the completion of restoration work.
The Institut d'Egypte burned down on 17 December 2011 during clashes between military forces and protesters in front of the nearby Cabinet building, in which at least 17 people were killed and hundreds injured.
Monday's reopening was attended by Major General Mahmoud Hegazy, deputy defense minister.
Arab said that the renewal work took three months and cost LE6 million, funded entirely by the Armed Forces.
The volume of waste removed from the site was about 430 cubic meters, the minister said. Fireproof paints were used on the windows and doors, and surveillance cameras were installed to secure the building.
There are about 25,000 books in the Institut d'Egypte, written in Arabic, English, German, French, Spanish and Italian.
Books that were rescued from the fire were returned to the institute in addition to books that were donated by libraries, institutions and individuals, including the collection of Syrian Haitham Khayet, a member of the Arabic Language Academy in Cairo and Damascus, whose library includes more than 5,000 books.
In addition, the library of the late Mahmoud Hafez, former head of the Arabic Language Academy, was donated to the institute, as well as gifts from some university professors and all the publications of the French Institute of Orient Archaeology, which is also training Institut d'Egypte employees on a new indexing system.
Institute head Ibrahim Badran said he cried in front of former military council head Field Marshal Hussein Tantawi when the latter gave him the report on the fire.
"The institute burning was carried out in a systematic manner," Badran added.
Mohamed Abdel Rahman al-Sharnoby, the secretary general of the institute, said the National Library and the National Archives had a prominent role in storing most of the books during the restoration.
Former Prime Minister Essam Sharaf, who is also a member of the institute, said he "was in a state of awe when entering the building."
Edited translation from Al-Masry Al-Youm