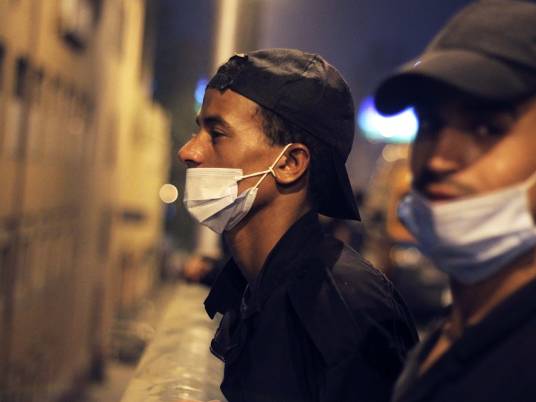 The Central Security Forces deployed near the Beni Suef governorate headquarter building were removed from their places mid-August without the the permission of the head of the Security directorate, according to a document acquired by al-Masry al-Youm.
The incident took place right before the outbreak of violence following the dispersal of sit-ins in support of former President Mohamed Morsy in Cairo.
Interior Minister Mohamed Ibrahim ordered an urgent investigation into the violent events that took place in Beni Suef, including the setting fire, breaking in, and robbery of a governorate building, the murder of the head of Beni Suef Traffic Department, and the storming of the Beni Suef police station. During the storming of the station, it was burned down, killing an officer and two recruits.
Colonel Ahmad Fawzy, head of the central security in the area, withdrew the forces near the Ben Suef Governorate building after governor Mohamed Magdy al-Betity entered the building on 14 August following the dispersal of the pro-Morsy sit-ins, according to the document.
The withdrawal of the forces was not ordered by the security directorate head Ibrahim Hadib, which led the commander of army forces insurance who was stationed to protect the governorate building to also withdraw his troops from the area.
The attackers seized an armored vehicle belonging to the army after burning the governorate building and its parking lot.
They took the armored vehicle to the Beni Suef police station, where they broke the barrier in front of the station, fired heavily from the armored vehicle, killing officer Mina Ezzat Saleh and burned down the station.
According to the document, the Beni Suef Security Directorate demanded security reinforcements on 25 June, consisting of 13 central security troops to protect police stations, government buildings and banks. Only four troops were sent, however, with one soldier assigned to the governorate building, two to the Security Directorate, and a fourth soldier to the rest of the facilities.
Edited translation from Al-Masry Al-Youm