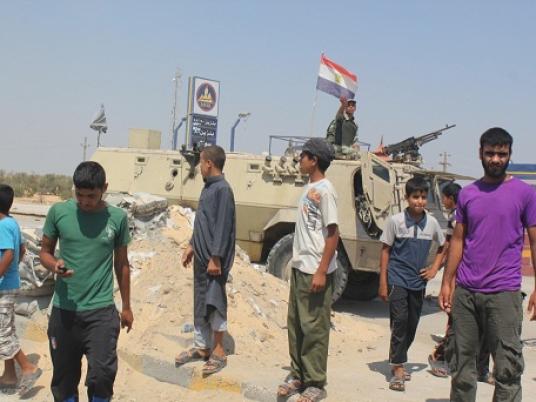 Interior Minister Ahmed Gamal Eddin on Thursday asked Sinai tribal chiefs to cooperate with security authorities in the Sinai Peninsula, where attacks on security installations have increased in recent months.
Gamal Eddin told tribal chiefs during a meeting Thursday that the honorable citizens of Sinai should play a major role in securing the peninsula and the border, a security source said.
The source added that Gamal Eddin called on the tribal chiefs not to harbor fugitives and to cooperate with security forces to eliminate "the forces of evil and terrorism that seek to cause chaos and destruction."
Gamal Eddin promised firearms permits to those who possess weapons, the source said, while also warning that he had instructed security forces to deal strictly with anyone who openly carries a weapon and attempts to use it against police or military personnel.
Gamal Eddin said the Interior Ministry has seized over 20,000 weapons in Sinai in the past months in addition to large quantities of heavy arms and ammunition.
Tribal elders have supported the recent raids in Sinai but demanded that military forces not harm civilians and respect Bedouin culture, Al-Masry Al-Youm reported.
An attack on a security checkpoint near the Karam Abu Salem crossing killed 16 soldiers on Sunday and wounded seven others. The Interior Ministry in coordination with the armed forces organized raids in Sinai to locate the perpetrators.
Prime Minister Hesham Qandil said on Wednesday that the Interior Ministry submitted a plan to combat the spread of weapons in Sinai, but did not disclose any details.
Sinai activist Saeed Ateiq told Al-Masry Al-Youm last May that the number of weapons in Sinai multiplied by 50 percent after the revolution because of the "security vacuum," but he noted that the presence of weapons in Sinai was not new.
Another activist in Sinai, Mosaad Abu Fagr, said weapons have always been present in Sinai, adding that, "The Bedouin use arms to protect their land and families and do not raise them except in the face of their enemies."
The Rayesa checkpoint, east of Arish, was attacked on Thursday evening by gunmen who are believed to belong to radical Islamist groups that target the armed forces and police in Sinai. The attack coincided with Gamal Eddin's visit to Sinai.
Edited translation from Al-Masry Al-Youm