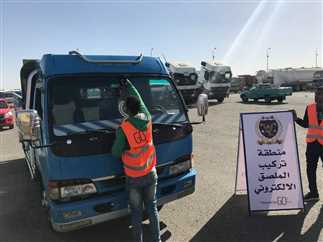 The Ministry of the Interior began, on Tuesday, circulating obligatory electronic labels on vehicles nationwide to speed up the detection of stolen vehicles and vehicles with expired licenses.
The electronic sticker contains the plate number of the vehicle, its type, and its registered data, through which accurate information can be provided to traffic police as part of an automated system.
The sticker can also help with recording traffic violations, detecting vehicle owners who evade customs tariffs, determining congestion areas, and issuing reports and statistics to contribute to the management of traffic.
According to the Interior Ministry, the sticker must be placed on all vehicles nationwide. It will be placed on windshields and will become damaged in the case of any attempt to remove it.
The label is installed through all traffic departments.
Vehicles are not allowed to operate without the label, and in the case of violation, the car owner will pay a fine between LE4,000 and LE8,000.
The e-label also aims to facilitate the movement of vehicles on roads, as it will help with the payment of various fees including toll fees and traffic violations, which will be recorded through the label.
Edited translation from Al-Masry Al-Youm