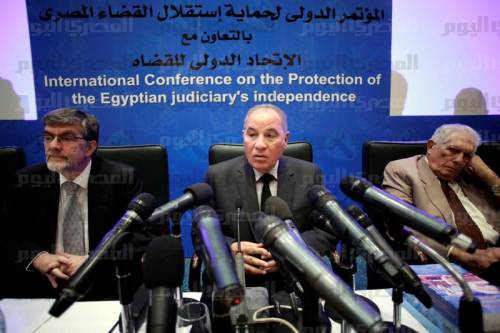 Egyptian judges have been mistreated, a statement from the Judges Club quotes head of the International Association of Judges (UIM) Gerhard Reissner as saying during a visit to Egypt.
A bill that would lower the retirement age of judges is an attempt to remove 3,500 judges, including former Attorney General Abdel Maguid Mahmoud, Reissner claimed.
In its statement, issued this morning, the UIM asserted that any assessment of the Judiciary's performance should not be influenced by politics, adding that characterizing the Judiciary as corrupt is an inappropriate generalisation, as the existence of several corrupt judges should not implicate the entire institution.
The Club said that the head of the UIM also expressed sympathy for the judges, particularly after witnessing the reaction of the Muslim Brotherhood leadership to his visit and hearing the accusations of treason they leveled against Ahmed al-Zend, head of the Judges Club.
Reissner also stated that only judicial inspectors should be able to find the Judiciary guilty of corruption, once they have conducted an investigation and once an independent court has issued a final ruling.
The UIM will listen to all parties involved and consider all points of view in preparation for submitting a comprehensive report on the current crisis to the UN, Reissner said in a speech delivered on Monday before the Conference to Protect the Independence of the Egyptian Judiciary.
The legitimacy of the bill on judicial authority, currently under consideration by the Shura Council, will be reviewed with respect to international standards in order to determine whether it could be used to undermine judges' rights, Reissner added.