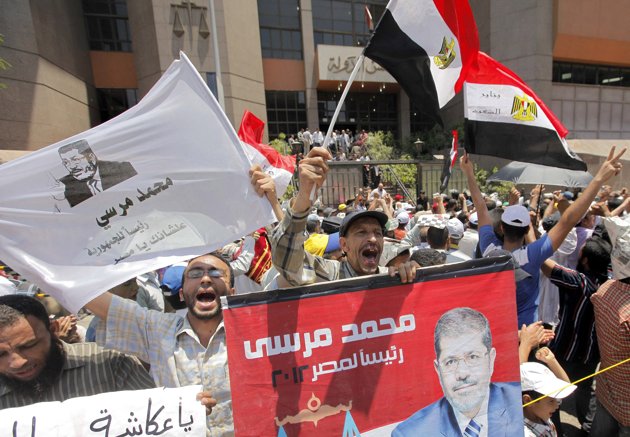 A new campaign backing President Mohamed Morsy launched its website on Friday, claiming its motion supporting Egypt's embattled leader had already received 10 million signatures by Saturday.
The Tagarrod campaign, which in Arabic means "impartiality," was launched on 13 May during a Jama'a al-Islamiya party summit in Qena, around 600 kilometres south of Cairo.
The campaign's general coordinator Ahmed Hosny said a press conference would be held on Monday to reveal the "surprising" numbers of supporters who have signed the petition.
"The [press] conference will ]include announcing [the names of] parties, who will coordinate with the campaign to stage rallies supporting the president" on 30 June, he added.
"Several press conferences will be held after that," Hosny continued. "There will be a joint conference with Islamist parties to announce details and stances that will be agreed on, including decisions on staging sit-ins outside the [Ettehadiya] presidential palace."
"There will also be another conference to declare the final number of signatures that the campaign collected," Hosny told Al-Masry Al-Youm on Sunday.
The number officially cited so far is 10 million.
"The opposition practices the same policy of exclusion exercised by former regime of ousted President Hosni Mubarak," Hosny claimed. "There is a struggle for power and another ideological one."
"Some people oppose the president because they are against Islam. Other opponents are patriotic and respectful. Other parts of the opposition have no vision."
Khaled al-Meshad, the campaign's spokesperson, added: "The recent number declared by the campaign is 10 million signatures. The press conference will declare a higher number that will shock the opposition."
"Anyone who calls violence is a traitor. They don't deserve to hold the Egyptian nationality. The Egyptian blood is a red line. Everyone should consider the country's interests and raise them above any [other] considerations…that could ruin the nation," Meshad told Al-Masry Al-Youm.
"The alternative for Morsy's downfall and eruption of violence is hell, not the alleged paradise promised by the opposition."
Edited translation from Al-Masry Al-Youm