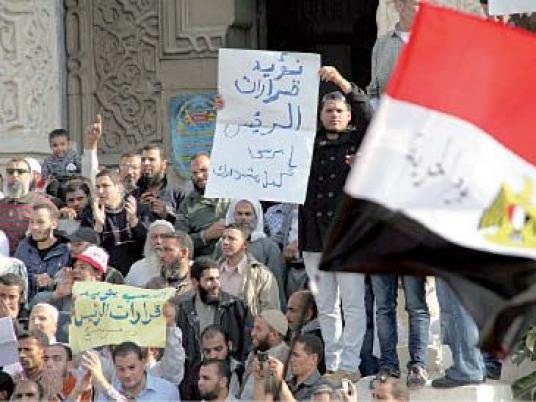 Jama'a al-Islamiya and the Muslim Brotherhood announced Tuesday that they are working to form groups known as the civilian police in cooperation with other Islamist groups.
The militias will be able to arrest people they deem to be criminals or breaking laws.
Ahmed al-Iskandarani, a spokesman for the Jama'a al-Islamiya's Construction and Development Party, said the groups would not take action if police were on the streets. However, should police call for further strikes or withdrawals, community police groups would step in under the supervision of the Interior Ministry. "This system is applied in other countries," he said.
To garner further support for the militias, the organizers have issued an open call online.
The civilian police initiative is due to growing strike action of police across much of the country. Many are also distrustful of the police after reports of torture and excessive force used against protesters.
Yehia al-Sherbini, coordinator of the Muslim Rebels Movement, said his group is willing participate as civilian police to maintain security and protect public and private property. "Islamist movements are capable of replacing the police," he said. "We can arrest outlaws and hand them over to the police or the army."
"We already started organizing committees in the Assiut and Minya," he added.
Youth members of the Muslim Brotherhood also demanded on Tuesday that they be allowed retribution after the group's supreme guide was insulted while dining at a restaurant in Citystars mall on Monday evening.
However, Brotherhood leadership is shrugging off the incident.
"It is a trivial incident," said Brotherhood member Islam Fares. "The prophet himself was insulted and pelted with stones."
He added that Egyptians are not known for such behavior and called for residents to respect each other.
Edited translation from Al-Masry Al-Youm