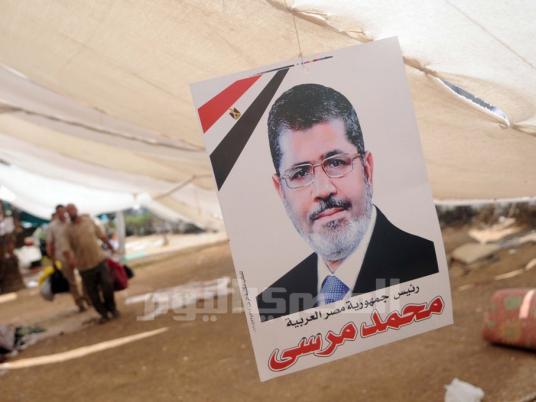 Dozens of Muslim Brotherhood and Freedom and Justice Party members have gathered in Tahrir Square Monday evening in preparation for a mass protest on Tuesday. Demonstrators intend to show their support of President Mohamed Morsy's decree to reinstate the People's Assembly.
The rally was initiated by the youth, FJP leader Helmy al-Gazzar told Al-Masry Al-Youm, adding that so far no other political parties or movements have announced their participation in the protest, but that all would be welcome.
The call to protest came in response to the liberal Wafd and Tagammu parties' rejection of Morsy's decree.
The state-run news service MENA reported that traffic through Tahrir was paralyzed Monday evening as demonstrators from various governorates began to congregate. The demonstrators have spread to streets surrounding Tahrir and to the headquarters of the Arab League, and intend on spending the night there.
Ahmed al-Zend, head of the Judges Club, said in a press conference Monday that the judges would not enforce any laws passed by the reinstated People's Assembly.
The judges give Morsy 36 hours to withdraw his decision, Zend said, demanding an apology to the Egyptian people and the judicial authorities for violating their rulings.
"Those who are loyal to the US are not loyal to us," Zend added, referring to Morsy's meeting with US Deputy Secretary of State William Burns at the presidential palace on Sunday.
In response to Zend's statement, Freedom and Justice Party MP Saad al-Husseini demanded that the judge be charged with defaming the president, alleging that Zend was in essence accusing Morsy of treason.
Edited translation from Al-Masry Al-Youm