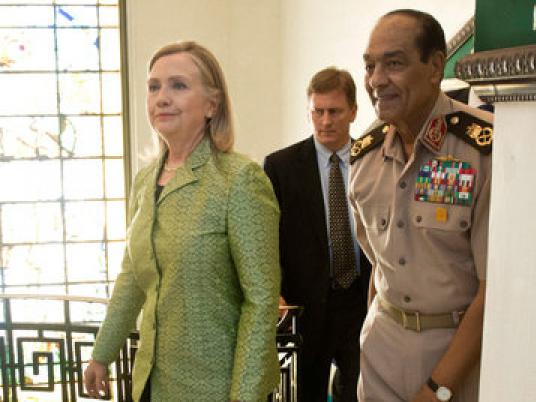 The Muslim Brotherhood and the Jama'a al-Islamiya have criticized Field Marshal Hussein Tantawi for his statements to US Secretary of State Hillary Clinton in which he stressed that the armed forces would not allow a certain group to dominate Egypt and ignore the rest of the Egyptian society.
"Tantawi is trying to tarnish the image of the group in a cheap way," said Brotherhood Shura Council member Sayed Nazily. "We never said Egypt belongs to us alone."
"Tantawi is temporarily sharing power," Nazily added. "But ultimately, power will be in the hands of Mohamed Morsy, the elected president, for the army is part of the state, not above it."
Shura Council majority leader from the Freedom and Justice Party Ali Fath al-Bab said Clinton met with Tantawi in his capacity as head of the military council, which has legislative authority under the supplement to the Constitutional Declaration, issued on 17 June.
"We reject that she should interfere in our internal affairs." he said. "Our relations after the revolution should be based on mutual respect."
Former FJP MP Nasser al-Hafy said Tantawi's statement is provocative.
"It is a deviation from the democracy that all political and revolutionary forces seek, which was expressed by the voters in the ballot boxes," he said.
"Clinton's meeting with Tantawi is a confirmation that the state is ruled by two presidents and not one with full powers, thanks to the Constitutional Declaration," he said, adding that a ship with two captains is doomed to sink, as he put it.
Hafy objected to the term "clash" between the president and the military council.
"Clash is used between two parties of equal strength, not between the president and his subordinates," he said.
Gaber al-Gahlan of the Jama'a al-Islamiya said Tantawi's statement suggests the military intends to retain power instead of returning to the barracks.
"Perhaps he got a green light from Clinton to do so," he said. "This may lead to another revolution."
Edited translation from Al-Masry Al-Youm