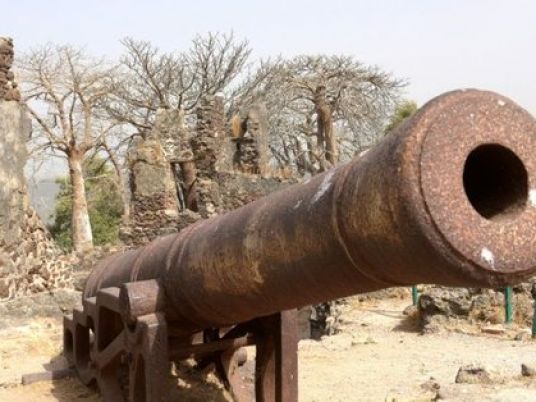 As the rebel slave who defied his captors, Kunta Kinteh, immortalized in print and on screen in the series "Roots", put Gambia on the map for historical tourism. Now, the descendants of slaves are urging action to preserve historial sites on Gambia's Kunta Kinteh island.
But the island where he and tens of thousands of west African slaves faced the horrors of being chained, branded and separated before leaving their homeland forever, is under threat from sea erosion and neglect.
Kinteh's descendants, along with heritage officials, warn that without urgent action, 550 years of history could be lost.
They are pressuring the new government to preserve the country's historical memory for the next generation of Gambians and tourists.
The island's namesake sprang to fame as the central character in American author Alex Haley's "Roots: The Saga of an American Family".
The late Haley claimed to be a descendant of Kinteh but doubts have been cast over the authenticity of this claim. Although "Roots" has been criticized for historical inaccuracies, it indisputably heightened awareness of the horrors of the slave trade when published in 1976.
The UN's cultural agency awarded the island World Heritage status as a memorial to an "important, although painful, period of human history", spanning the arrival of Portuguese traders in the mid-15th century through to its use as a holding cell for illegal slavers after Britain's abolition of the trade in 1807.
The parched-looking trees and brick ruins that occupy the island once housed dozens of captured west Africans awaiting passage to the New World, but whole sections of the slaves' quarters have already been reclaimed by the river's salty waves and high winds.
Decades of Neglect
For Hassoum Ceesay, a historian and official at Gambia's National Center for Arts and Culture, it is time to seize the chance to reverse what he describes as two decades of neglect under former leader Yahya Jammeh, or risk losing the island.
"We are very hopeful that with this new government there will be more attention paid," he told AFP in a book-lined room at his home near the capital, Banjul, referring to President Adama Barrow, who took office in February.
"There was a lot of pressure, particularly from the former president, to sort of sift the history of the island," he said. "We resisted, and that resistance made the government reduce its attention and support."
He said that Jammeh even added mandatory days in his home village, Kanilai, to a tour aimed at diaspora tourists as part of a "Roots" festival, even though it is unrelated to the site.
Tourism numbers were badly hit by the protracted political crisis caused by Jammeh's refusal to quit after 22 years at the helm when he lost an election in December, another concern for heritage experts.
UNESCO, which declared the island and its nearby villages a World Heritage site in 2003, describes it as "extremely vulnerable to erosion" and "needing protection". It is dispatching a team this summer to assess the site's condition.
Visitors need only glance at old maps to see by how much the former fort, which passed between Portuguese, Dutch, French and British hands, has already receded — to a sixth of its original size by some estimates.
"The island was reclaimed from the river, so as time went on, with global warming, erosion became more pronounced," Ceesay said.
He wants the international community to undertake a total revamp of Kunta Kinteh island and related sites, which include a colonial warehouse and a Portuguese settlement.
Ceesay hopes the island can attract funding to ensure its future and wants to see investment in tour guide training, a resource centre, more focused educational tours and the development of the River Gambia for pleasure cruises.
National Hero
In this small, poverty-stricken and largely rural nation, national heroes such as Kinteh are few and far between and citizens feel that much is at stake.
Speaking at her family compound in the village of Juffureh close to the island, Mariama Fofana, believed to be an eighth-generation descendent of Kinteh's, said young Gambians see him as "a role model and someone who believes in the values they stand for."
It was, she said, "a concern to everyone, (that) the island is getting eroded each and every day," urging international donors to provide funding that the cash-strapped government may not be able to afford.
Everything from naval ships to beach bars are named after Kinteh in Gambia, and his story has seen a renaissance with a recent remake of the "Roots" TV series, and a name check in US rapper Kendrick Lamar's recent single "King Kunta".
But the slave who refused to take the name given to him by his American owners, and whose foot was cut off after multiple escape attempts, according to Haley's account, still inspires pride.
"We need to know about our history. That is the only way we can truly understand our potential," said Lamin Jammeh, a 17-year-old secondary school student who was waiting to visit the island for the first time.
Learning about Kinteh was a way to "learn and start moving forward," he added.

Report by Jennifer O'Mahoney; AFP