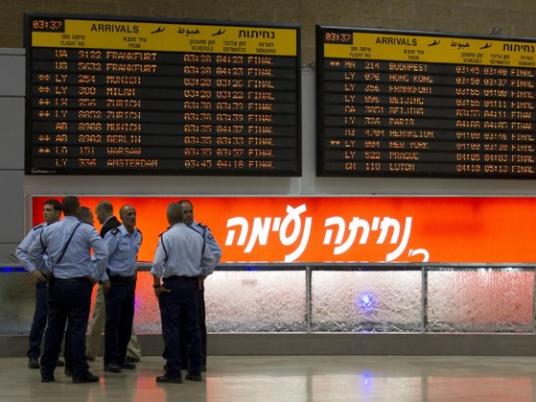 Israel scrambled fighter planes Saturday to intercept an unidentified passenger aircraft entering its airspace and escorted it to land at Tel Aviv, the Israeli military told AFP.
Israeli media reported that the aircraft turned out to be an Air Sinai flight from Cairo to Tel Aviv's Ben Gurion airport.
"Earlier this morning, two Israel Air Force aircraft accompanied a foreign aircraft planning to land at Ben Gurion airport which did not identify itself when entering Israeli airspace," a military spokeswoman said.
"The aircraft landed safely at Ben Gurion airport as planned," she added, without giving further details.
An Egyptian aviation ministry official said that the pilot of the Boeing 737 had given the necessary notification to Cypriot authorities as he flew through their airspace but they were slow to pass it on to Israel.
"Given that the Cypriot air traffic control was late in providing Israeli air traffic control with the plane's identification, an Israeli Air Force jet intercepted the plane," a ministry official told reporters, adding that the airliner had since returned to Cairo.
Last month, an EgyptAir domestic flight was hijacked and forced to land on the Mediterranean island of Cyprus, where an Egyptian is currently in custody awaiting extradition proceedings.
And in what Egypt's President Abdel Fattah al-Sisi has acknowledged as a jihadist bombing, a Russian plane crashed in the Sinai Peninsula in October killing all 224 people on board.
Israeli public radio said that in Saturday's incident the Air Sinai aircraft was flown by pilots new to the route and unfamiliar with the usual radio identification procedure when approaching Israel.
"The Egyptian company was asked to make the procedures clear to its pilots," the broadcaster said.
News website Ynet, however, said the pilot's radio silence was "apparently due to a technical fault".
Egypt and Jordan are the only Arab countries that have signed peace treaties with Israel.