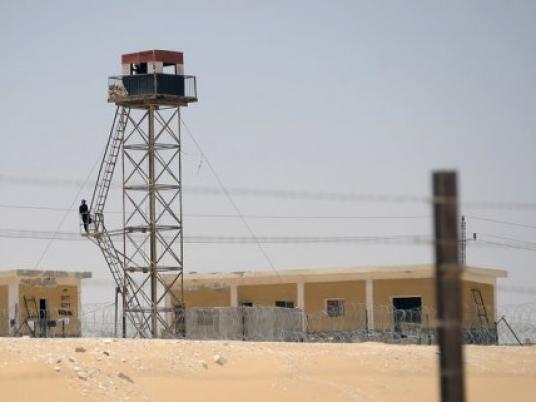 "The catching of the three [infiltrators] occurred in the early morning, a few tens of meters from the border, inside the Egyptian territory. We guarded the three a few hours and afterwards we marched them along the border, on the Egyptian side, a few kilometers until the point where we were supposed to hand them to the Egyptian forces," an Israeli reserve duty soldier wrote in an affidavit received by Israeli attorney Anat Ben-Dor, who works on migrant issues, on 27 July 2012.
The affidavit, received by Egypt Independent on 9 August, comes on the heels of a campaign by Israeli human rights organizations against Israel's practice of rendering asylum seekers to countries where their lives are at risk — a violation of the principle of non-refoulement in international law — particularly those migrants coming to Israel via the Sinai desert.
The letter and the campaign reveal that Israeli forces have been entering Egyptian territory, detaining migrants and asylum seekers before they reach the border, and handing them over to the Egyptian authorities. In an attempt to evade treating migrants illegally on Israeli territory, Israeli forces appear to be pursuing them outside of Israel.
The practice marks a new chapter in the handling of migrants that attempt to enter to Israel through Sinai, and it comes amid heightened tensions over Egypt's ability to impose order in the area.
The reserve soldier wrote about a second operation he took part in inside Egyptian territory:
"In an additional event that I participated in, I was called to guard a group of about 40 people, including 30 men and another 10 women, female adolescents, girls, and one baby. They were arrested throughout the night by our forces in a deep valley inside Egypt. I arrived during the day. The group sat on the ground and we guarded around them. I guarded there eight hours during the day. Brigade level ranking commanders also arrived to the place. They told us that we are waiting for the arrival of the Egyptians to a close road and there we will carry out the return."
According to the soldier, the Israeli commanders have said that the practice is coordinated with their counterparts on the Egyptian side of the border.
In another case, 40 Sudanese migrants were stopped by Israeli soldiers inside Egyptian territory and were handed to Egyptian police the following morning. According to one soldier who was involved, some of the migrants exhibited resistance as they didn't want to be turned over.
The soldier said that prior to conducting operations inside Egypt, reservists had shared experience with him on how difficult it was to stop infiltrators by force as some of them resisted and managed to escape.
"In light of this, they recommended that we give them the illusion that they have arrived to the territory of Israel by not using aggressive behavior, displays of tension, or threats with our weapons. They suggested that we receive those that come with the blessing 'Welcome to Israel,' to act friendly, to ask the purpose for their arrival, to offer food and water and to promise them that a bus will arrive soon to take them," the soldier wrote.
According to a statement received by Egypt Independent from the Israeli nonprofit organization Hotline for Migrant Workers, human rights organizations, including Amnesty International, have been in contact with migrants in Israel who claimed their relatives were trapped in Egypt after being forcibly handed over to the Egyptian police by Israeli soldiers.
Not only is the practice in violation of international law since it entails stopping asylum seekers from pursuing their quest, but it is another form of the controversial "hot returns" and "coordinated returns" policy, which Israel has conducted previously in collaboration with Egypt and migrants' countries of origin. Under the policy, Israeli soldiers can return infiltrators to a neighboring country within 24 hours of their entry, and as long as they have not gone farther than 50 km from the Israeli border.
"Human rights organizations in Israel are calling for this practice to be immediately stopped. … In particular, Israel is responsible for the action or omissions of its soldiers, whether they are located in Israeli or Egyptian territory," the statement read.
But this is not the response these organizations got from Sagiv Lichtman, a legal adviser to the Israeli military's Southern Command, when they sent it a letter of concern. Lichtman said the practice doesn't violate Israel's obligations under international law since it targets people outside of Israel's territory to prevent them from breaching Israel's sovereignty, adding however that the Egyptians are "materializing their sovereignty in their territory."
Under the peace treaty between Israel and Egypt, the latter is allowed a limited military presence in the border area, an issue that has been commonly criticized by Egyptian activists. Israeli troops also entered Egyptian territory in August of last year, after a series of attacks by militants crossing from Egypt killed eight Israelis outside the bordering city of Eilat in southern Israel. The troops were chasing the militants, and in a coordinated attack with an Israeli helicopter, killed five Egyptian policemen in what was considered friendly fire. The incident stirred protests in Egypt and a diplomatic crisis between the two countries.
In accordance with this new practice, the Hotline for Migrant Workers documented a significant decrease in the number of migrants reportedly crossing over to Israel. According to information from the Israeli interior ministry's Population, Immigration and Border Authority, just 248 migrants successfully crossed in July; in previous months the numbers ranged from 928 to 2,295.
Also in accordance with the new practice and as per information from North Sinai Governorate, groups of migrants have been detained in Arish police stations. According to sheikhs living in the border area, these migrants were handed over to the police stations by military intelligence officers.
Sherif Ismail, the security adviser to North Sinai Governorate, said that once these migrants reach the police stations, their embassies are contacted to pursue the procedures of immediate deportation. When asked if there is collaboration with Israel on the matter and the authenticity of reports of Israeli soldiers crossing over to Egypt, he categorically denied it. "This is unheard of. It's a matter of Egyptian sovereignty."
Since the phenomenon of irregular crossings by African migrants into Israel through Sinai started in the mid-2000s, Egypt adopted a shoot-to-kill policy to deter them. Besides being documented by several human rights organizations, a former governor of North Sinai confirmed the practice to Egypt Independent in an interview in 2009, while he was still in charge. Arrested migrants would normally be kept in administrative detention until they were deported.