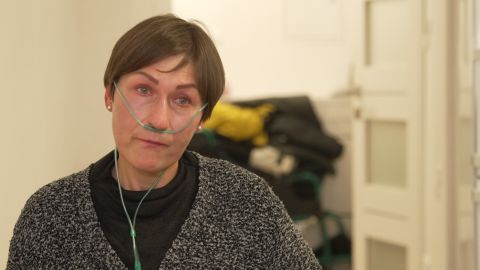 Kateryna and her husband Oleg endure what every citizen of Kyiv must – long blackouts, hours without any internet connection and constant apprehension about the next missile barrage.
But as they begin 2023, they are also preparing for the arrival of twin boys. Kateryna, who is 34, is eight months pregnant. CNN agreed to use only first names for her and Oleg as they fear for their privacy.
She's not getting much rest ahead of the big day. The air-raid sirens blare almost every day, the crump of explosions is all too familiar. Their lives are shaped by the scheduled power cuts, as electricity is shared among the regions to mitigate the impact of Russia's strikes on Ukraine's energy infrastructure.
"On New Year's Eve, I tried to take a nap," she told CNN from her house in the Kyiv suburbs. "But I woke to the sound of explosions, and they went on through the night. The sirens were on for much of the night, until 4:30 a.m.," she said.
It's difficult for residents to distinguish between the sound of air defenses in operation and the impact of Russian cruise missiles and drones.
"I don't mind the blackouts," Kateryna said, "but we worry about the next wave of Russian missiles. Will it be us? It's like a constant gamble."