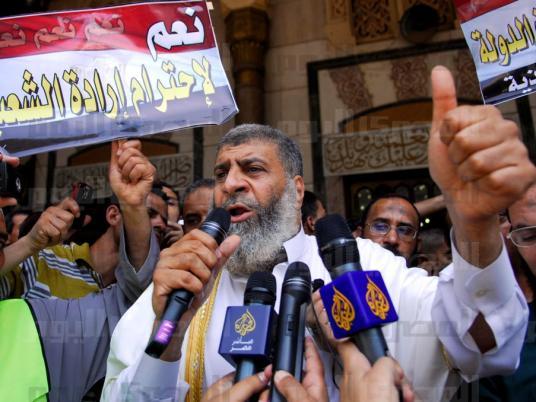 Jama'a al-Islamiya said it is contacting other Islamist groups to lobby supporters of President Mohamed Morsy to participate in mass demonstrations on June 30, coinciding with protests planned by liberal opposition groups marking the first anniversary of Morsy's inauguration as president.
Assem Abdel Maged, senior leader of the Construction and Development Party –Jama'a al-Islamiya's political arm– said the planned protests aim to confront "attempts by supporters of the extremist liberals, communists and Christian currents, to turn against legitimacy".
The call for the June 30 protests against Morsy was made by the Tamarod (Rebel) campaign, which demands early presidential elections. The campaign is now challenged by Tagarrud (impartiality), led by Abdel Maged.
In statements published Wednesday on the party's website, Abdel Maged said the president's supporters will be ready for "the expected encounter with those extremists", adding that they will "respond to abuse with the same".
The Tagarrud campaign was launched on May 13 during a symposium for Jama'a al-Islamiya and its party in the Qena governorate, about 600 km south of Cairo.
Meanwhile, leaders of Islamist movements are considering a sit-in in Tahrir Square before the end of June, in support of the president and his legitimacy, and in defiance of Tamarod.
The Legitimate Authority for Rights and Reform, widely thought to be a congregation of Salafi leaders, is meeting with various Islamist forces and parties to discuss the matter, while the Raya Party of Salafi leader Hazem Abu Ismail is meeting on Thursday to decide if it would join the sit-in.
For his part, Khaled Saeed, spokesperson for the Salafi Front, said the front is considering vigils outside the presidential palace and in different squares as of the beginning of next week and until the end of June. "We want to secure the streets and the state institutions," he said.
Also, the Muslim Brotherhood is forming what it called "central management units" in the main mosques of villages and cities all over the country in order to protect its branches against demonstrations projected for June 30 against President Mohamed Morsy.
Edited translation from Al-Masry Al-Youm