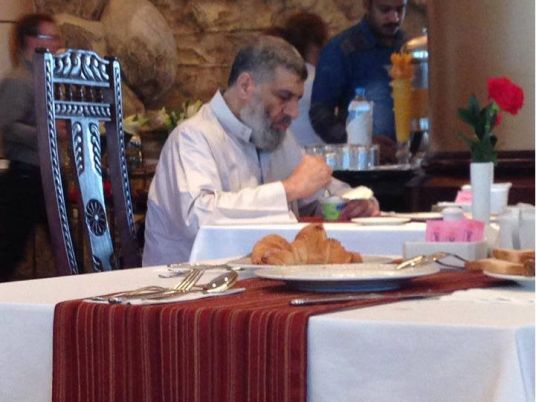 The head of the Jama'a al-Islamiya Shura Council, Sheikh Essam Derbala, accepted the resignation of leading member Assem Abdel Magued.
The group announced in a statement on Thursday, quoted by Ona news agency, his rejection of his remarks, which allegedly incited violent action against the military.
Magued appeared in Rabaa al-Adawiya Square to give a harsh speech that critics say incited fellow Islamists to violence during the political standoff with the military following the ouster of President Mohamed Morsy. Security services later forcibly dispersed the sit-in, killing some 300 pro-Brotherhood protesters in the process.
Magued also said in his speech that the army made a big mistake when it sided with the minority in Egypt, and it must review its position as the country has become on the edge of the abyss.
Derbala's statement stressed that the group had announced its commitment to peacefulness in the time when violence broke out following Morsy's ouster, thus the Magued's were not in line with the group.
The group then told its members that whoever violates the peaceful approach would immediately be sacked.
A activists posted pictures of Assem Abdul Magued, in the past few days, that reveaks his escape from the Egyptian authorities in the wake of the Rabea of al-Adaweya sit-in.This pushed security to address the Interpol to arrest him.
Edited translation from Al-Masry Al-Youm