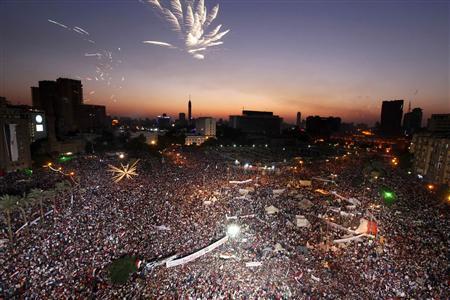 Six years after the January 2011 uprising that overthrew Egypt's longtime ruler Hosni Mubarak, Egyptians who had participated in protests back then are now either facing clampdowns on freedoms or grappling with despair.
"It's unbelievable how reluctant I've become, from a person who used to beg friends and relatives to join me in Tahrir, to someone who just wants to leave the country," Mayada Ibrahim, 37, said as she passed by Tahrir Square with her three-year-old son on Wednesday.
Ibrahim said that all she yearns for right now is to raise her son in a country where he'll grow up to believe that change exists.
"There is no such thing as change in this country," she said.
Millions of Egyptians protested in the square for 18 days, setting up tents and makeshift hospitals, and demanding an end to Mubarak's 30-year rule.
"I don't even feel nostalgic anymore, I mean we used to spend days and nights right here, I should be feeling any sense of euphoria remembering, but what I really feel is like I've wasted so much time and effort believing in nonsense," Ibrahim said.
Aspiring to become a photojournalist in Janaury 2011, Amira Samy, started taking photos during the revolution, hoping to convey a transperant image to the world on what was happening in Egypt at a time when mainstream media had failed to do so. Nowadays, however, Samy faces hurdles while doing her job as the police tightens its grip on media personel.
"I am hoping my photos can have an impact, change perceptions, and tell the stories of Egyptians through my captures — but this is becoming increasingly tough nowadays," she said.
Ryad Abdelhamid, 42, echoed the sentiment regarding Egypt's deteriorating economic circumstances.
"Two revolutions took place but we are going backwards, not forward. The economic situation is unbearable, even to the middle-class. I don't know how long people can stand living like this," Abdelhamid said, as he sipped on some sugarcane juice near Tahrir on the sixth anniversary of the January 25 Revolution.
Egyptians have been facing shortages of basic goods such as medicine and sugar in past few months — a dire situation which is compounded by prices spiralling upwards after the government floated the currency and cut fuel subsidies in November.
Those measures were part of economic reforms to meet the conditions for a US$12 billion loan from the International Monetary Fund, which was approved later that same month.
"If the poor can't afford to live anymore, they will steal one day, and they won't be blamed. I don't want to sound pessimistic, but the government won't be able to control the situation anymore," Abdelhamid, who works as a banker in Cairo's downtown, added.
On Wednesday afternoon, dozens of people gathered in Cairo's Tahrir square and marched along the streets of downtown, not to celebrate the anniversary of the revolt that six years ago toppled Mubarak, but to praise Egypt's police and army.
"I am here today to praise my brothers in the Egyptian police and army who have sacrificed their lives and blood for us," Emad Ayoub, 60, said.
"This is the 65th police day and I will thank them 65 times for saving Egypt," Ayoub said.
Fatheya and Samiha were also at the march to express their love and appreciation of President Abdel Fattah al-Sisi.
Wearing a dress and a headscarf shaped like the Egyptian flag, both ladies chanted: "The army is Sisi and without the army we are nothing" and "Sisi will bring an end to terrorism."
Abdelrahman Mohamed, however, recalled the days he used to sneak out of the house to go protest in Tahrir and demand change.
"I was 15 back in 2011. I was aware that the government is corrupt and that change is important, but it turns out that even dozens of revolutions wouldn't change a thing," the 21-year-old university student said.
Mohamed believes that without a transparent regime, coherent policies and rule of law, chaos will always prevail.
"No revolution will change how we behave due to the lack of law," he explained.
On the anniversary of the 2011 uprising, there are no signs of celebration to mark the uprising against Mubarak in Tahrir Square; instead police tighten security measures forbidding anyone to stay around the square. Additionally, the Saddat metro station leading to the square was closed on Wednesday.
"Of course I feel hopeless and defeated, and it's okay to feel that because our expectations were betrayed. But what is not okay is the detachment we feel, it takes away from the significance of the revolution; its days shook us to our cores and influenced an entire generation," Aziza Taha, political science student at Cairo University said.